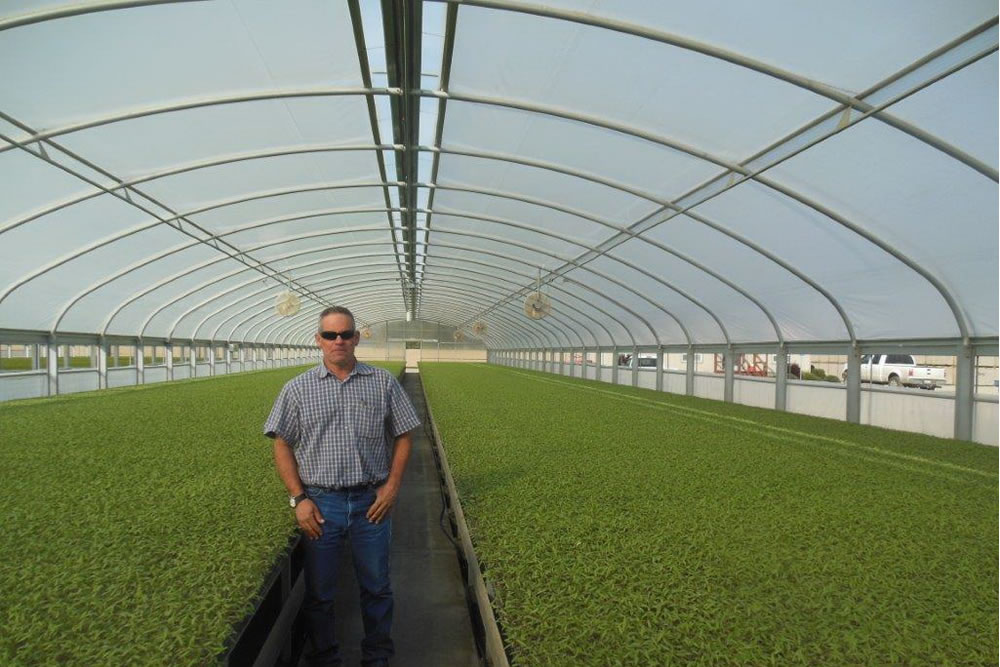 Woods Transplants in Gustine, CA was established in 2008 and currently the farm consists of 28 acres containing 54 greenhouses and totaling 400,000 square feet of greenhouse space. The farm produces primarily tomatoes and during the off-season, they grow kale, cabbage, cauliflower, broccoli, celery and peppers, Woods said and everything sold is in the form of transplants. The greenhouses featured at Woods Transplants are purchased from Agra Tech, Inc. of Pittsburg, CA—one of the largest commercial greenhouse manufacturers on the west coast.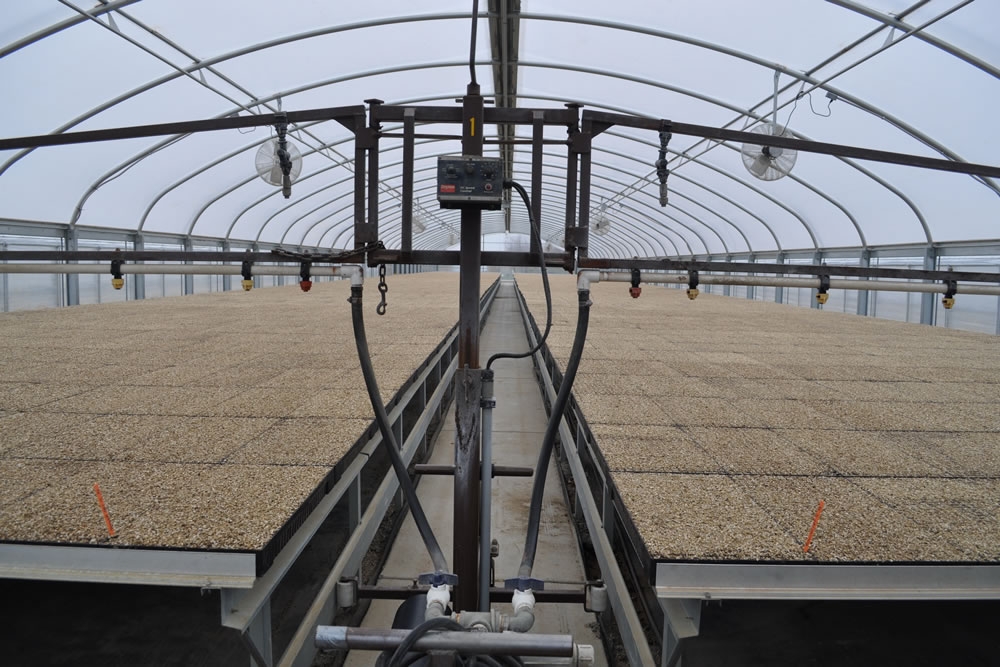 Owner Mark Woods, 47, is a second-generation grower with almost 20 years in the transplant business, he explained. "I started working with my father (Ted Woods, the owner of California Transplants) when I was ten years old, so I grew up in this industry. I learned by doing and maybe that's the best way. We're in our 8th growing season now at Woods Transplants, so it's been a good career and I enjoy the work. My father is 70 and he has no plans to retire and expect him to be doing this as long as he can."
"We sell tomatoes to 35 different farmers that are mostly in California, with a handful in Mexico and Arizona," Woods said. "Everything we sell is grown from seed; tomatoes make up roughly 90% of our business."
Growing and selling cannery and fresh market tomato transplants is the mainstay at Woods Transplants. "We grow them for growers who can't, for whatever reason," Woods said. "We purchase the seeds and then germinate them and by the time we ship them, they're strong, healthy and hearty. We start planting the tomatoes right after Christmas and then they grow until the end of May. Then the fresh market items that we grow will take us through August. Our crew starts out with 15 full-time people and then it expands to roughly 30 people as the volume increases. Most of our tomatoes are eventually headed to the processing facilities, where they are primarily used for tomato paste, ketchup and those types of things."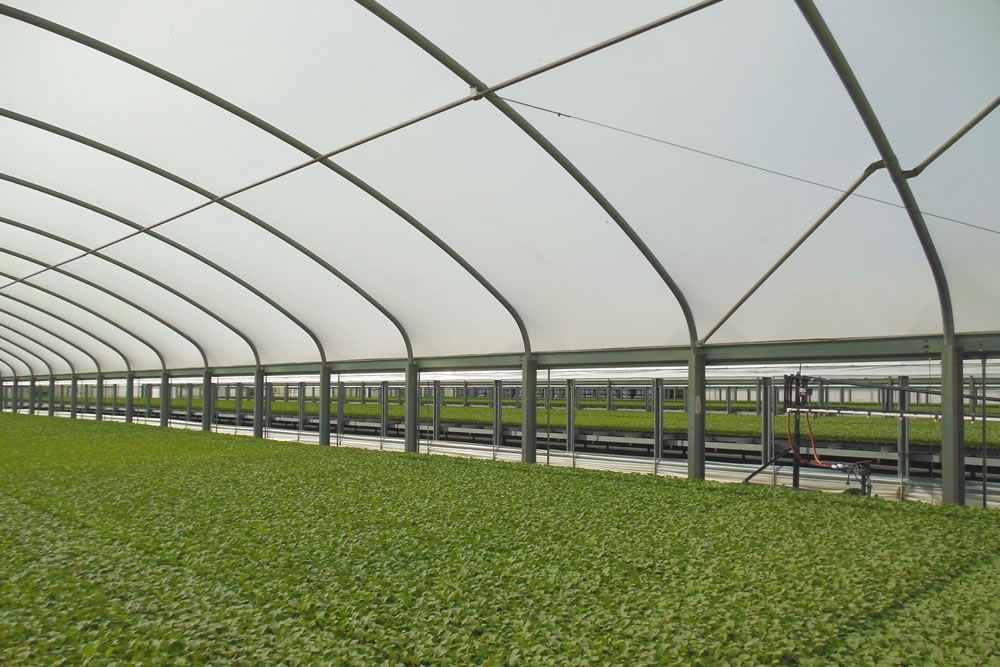 Woods buys the greenhouses from Agra Tech, Inc. and then Ag-Con Construction in San Jose, CA builds them. It's a family affair, because John Pound (the owner of Agra Tech) sells Woods Transplants the structures and Ray Pound (John's brother and the owner of Ag-Con) builds them for Mark and his father, the owner of California Transplants in Newman, CA.
Woods established a working relationship with Agra Tech early on by acquiring greenhouses from the manufacturer and tapping into Agra Tech's knowledge and expertise. It's a partnership that has gained momentum over the years, as both companies have expanded and changed with the technology.
"It has worked out well for both parties." Woods said. "We work closely with Jim Bergantz, our Agra Tech sales rep and he handles everything well for us. We're extremely happy working with Agra Tech and that's why we've bought so many greenhouses from them. If we have questions or need something above and beyond from these people, they don't hesitate to come through for us. Their customer service is exceptional across the board. We've worked with Agra Tech on so many greenhouses that we've got it down to a science by now."
Expansion may be in the future for Woods Transplants, but their current location is already packed with greenhouses. "We're landlocked right now, but my sales people are telling me we can sell more transplants, so we need to get more land and build some more greenhouses."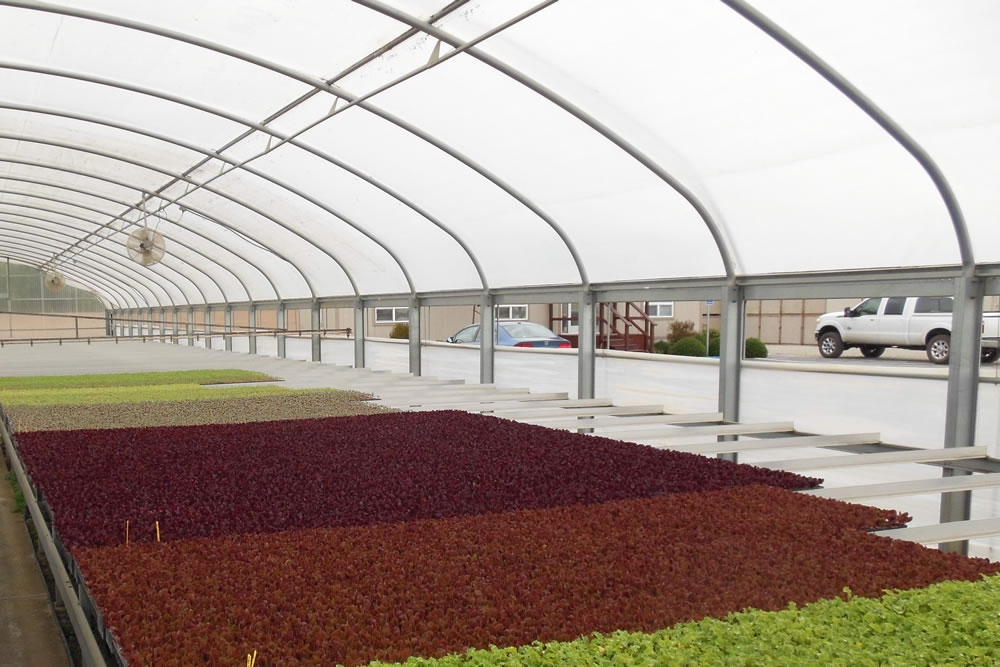 Transplants in Agra Tech Thermolator 35 greenhouse
with drop wall and benches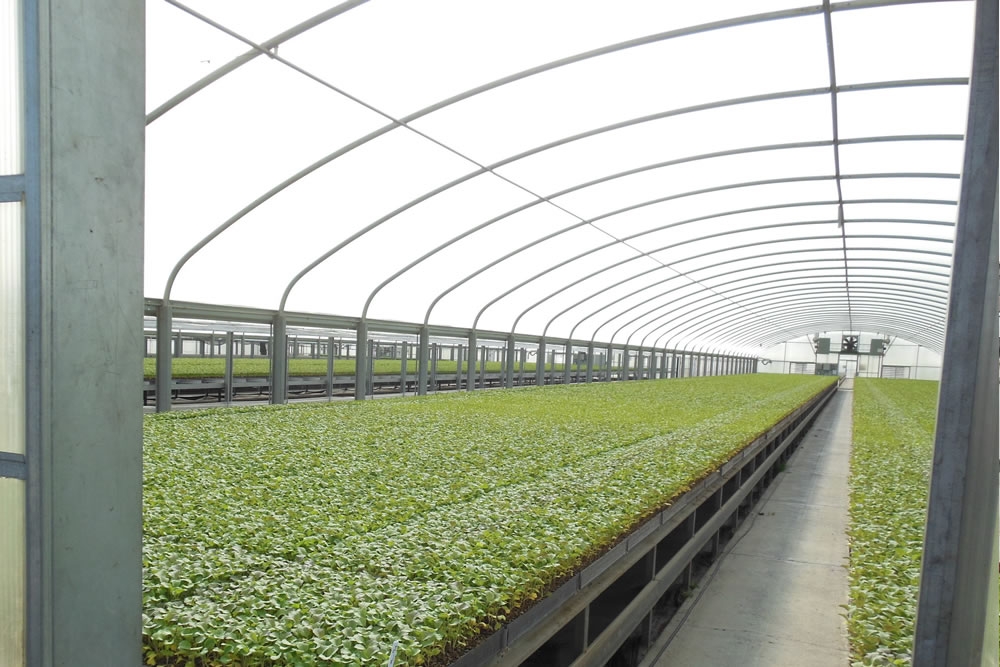 Thermolator 35 greenhouse, Long benches