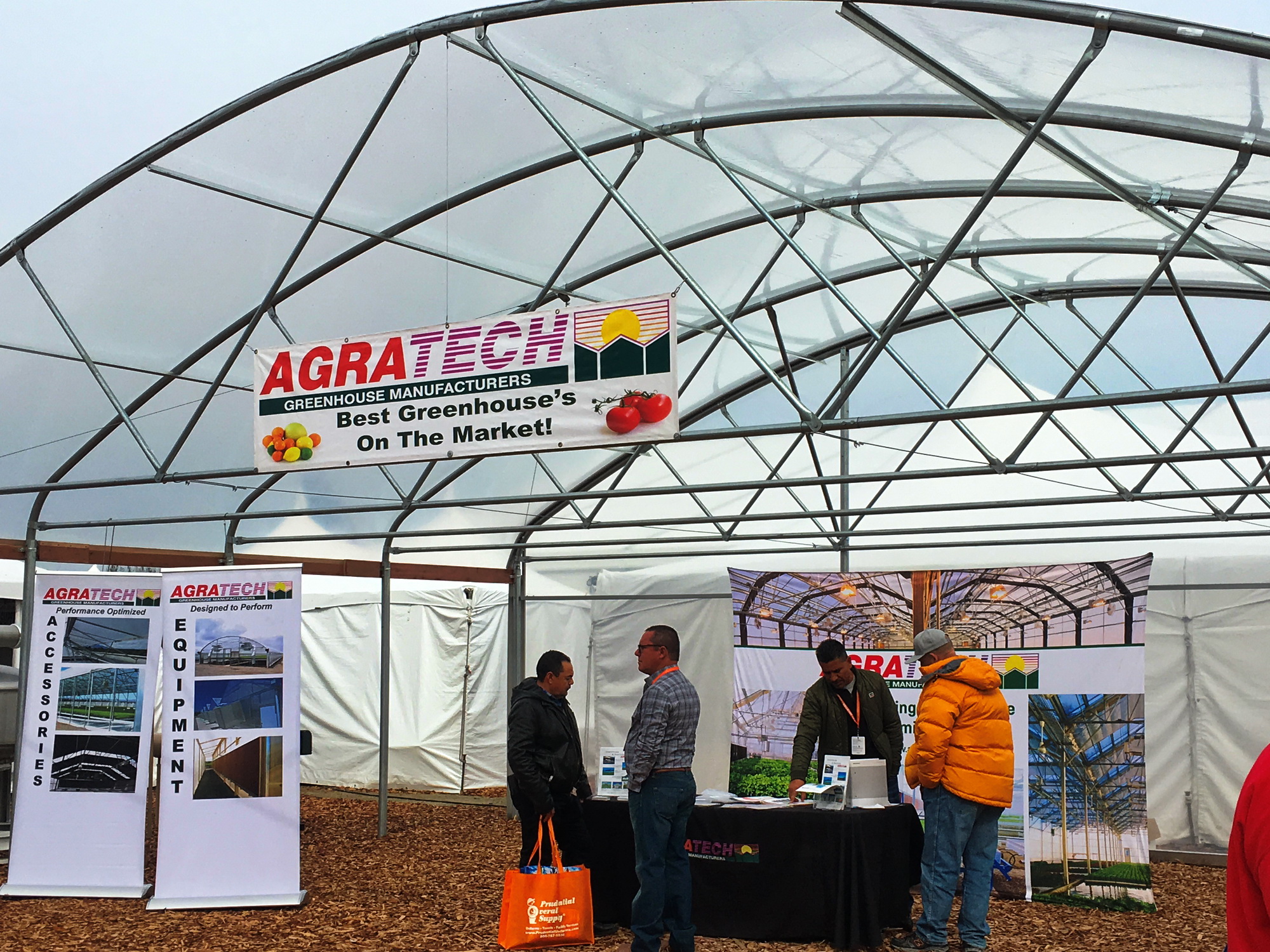 Agra Tech Shines Again at the 2022 World Ag Expo
On Feb. 8-10, a crew from Agra Tech traveled to Tulare, CA for the 2022 World Ag Expo that celebrated its 55th anniversary this year. Agra Tech's Director of Sales Adam Pound, Sales Engineers Jim Bergantz, and Kent Wright were on-hand to meet with new and existing clients, as well as friends, associates, and colleagues. It's the biggest show of its kind in the world, with people coming from all over the planet to meet exhibitors, learn about the industry, and enjoy some of the best tri-tip sandwiches you'll ever taste!
To create that "wow" factor, the team at Agra Tech built a section of its Thermolator greenhouses exclusively for the World Ag Expo (35 ft. x 24 ft. with eight ft. eaves). It is one of the most popular Quonset greenhouses on the market today, with Agra Tech successfully building an estimated 10 million square ft of Thermolator greenhouses since 1980. The Thermolator boasts the best value per square foot of all our greenhouses as it can be used for practically all crops, and is widely used by many vegetable transplant growers from North America to Japan.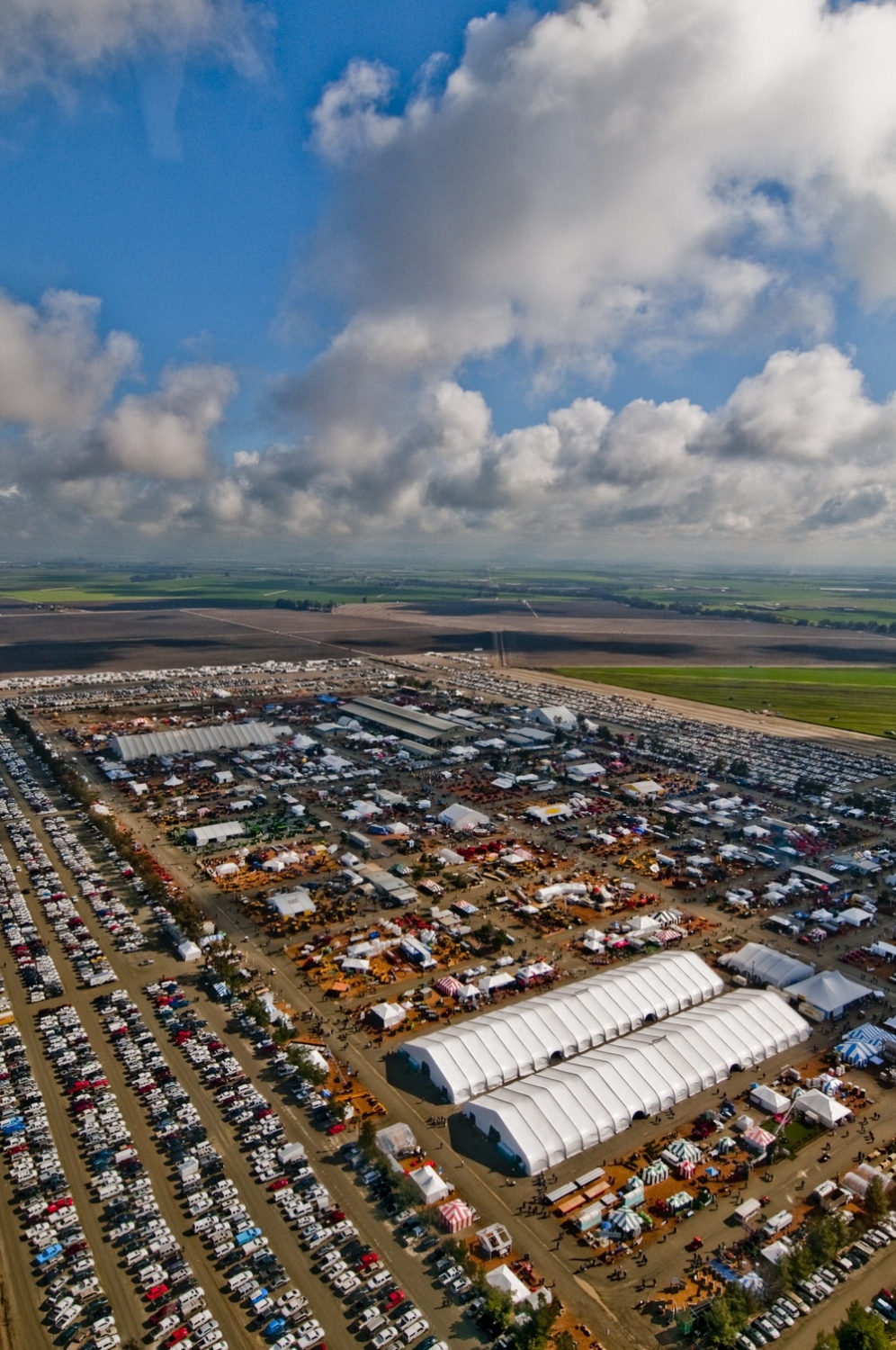 In this case, AgCon of San Jose, CA constructed the greenhouse on a smaller scale to accommodate the show. "We built it in two 12-ft. sections and covered it with poly," Adam Pound said. "The idea is to let show attendees see it, touch it and feel it as opposed to just telling them about it or showing them photos. We also displayed an example of one of our trusses from one of our Solar Light greenhouses. The Solar Light is used for a lot of applications from schools to R&D and large-scale production. We have had success displaying samples of our various structures at the World Ag Expo, and at the conclusion of the show, we often donate it to a non-profit. In the past, it went to Safe Haven Heirloom Farms in Orosi, CA and this year it was donated to Green-Tek."
Jim Bergantz sees genuine value in shows such as the World Ag Expo and looks forward to the show every year, although it was cancelled in 2021 due to COVID. "This show offers us a great opportunity every year to meet new customers and re-connect with existing clients from all over California and beyond," he said. "Catching up and finding out what these greenhouse growers and nursery people are doing is invaluable to our sales. The show is run by the farm community in the Central Valley, so there's a local vibe there. Agra Tech has been around since the beginning and our name is known for good things, so we always look forward to making an impression and we achieve that by building a greenhouse and displaying it every year."
Adam Pound said he has attended the World Ag Expo at least 10 times since he began working for the family business more than 15 years ago. "We go way back and many people remember my grandfather Robert Pound, who really was a pioneer in the greenhouse industry," Adam said. "We had the only commercial greenhouse here on display and the response we received from everyone was outstanding. Seeing peoples' faces and introducing them to our products is a major deal and that's why we will always be an exhibitor at the World Ag Expo."
About the International Agri-Center and the World Ag Expo:
The World Ag Expo is the largest annual outdoor agricultural exposition with over 1,450 exhibitors and an attendance of more than 100,000 each year. It is held at the International Agri-Center annually starting on the second Tuesday of February. It has officially been designated by the U.S. Department of Commerce as an affiliate of the Foreign Buyer Program, which encourages export of American-made goods. Prior to its 2001 renaming, the event was called the California Farm Equipment Show and International Exposition.
The International Agri-Center is a non-profit corporation formed in 1976 to promote California's agriculture industry through the World Ag Expo.
The International Agri-Center is led by an all-volunteer board of directors; has a full-time staff and more than 1,200 volunteers who dedicate their time to World Ag Expo, the California Antique Farm Equipment Show and other International Agri-Center® programs.
The Pound family has exhibited its products at the World Ag Expo the for many years, and gained a lot of attention for constructing a greenhouse to be displayed at the show. It's always an attention-getter and an awesome conversation starter with existing and potential clients.
The show has gone through numerous changes over the years. In 1968, the show began under its original name of the California Field and Row Crop Equipment Show, co-sponsored by the Greater Tulare Chapter of Commerce and the University of California Agricultural Extension Service. One year later, the name of the show was shortened to the California Farm Equipment Show, which included the state's very first demonstrations of exhibited farm equipment.
In 1976, the show outgrew the Tulare County Fairgrounds with 75 exhibitors on a waiting list. They increased the show by 20 spaces, but still wasn't big enough to accommodate an exploding market of farm supplies, tool, and equipment. Three years later, the powers that be changed the name of the show to the California Farm Equipment Show and International Exposition.
In 1982, the event hit the big time when the International Agri-Center opened in Tulare, CA with 80 acres of exhibition space and 70 acres of parking. Six enormous canvas tents in conjunction with 300 other tents equaled more than 1,000 exhibitors.
In 2000, the 76,000 sq. ft. Heritage Complex became home of the International Business Center, AgVentures! Learning Center, and the Antique Farm Equipment Museum. Finally in 2001, the show got its current name, as the World Ag Expo with 52 exhibits from 15 countries and requiring eight interpreters.