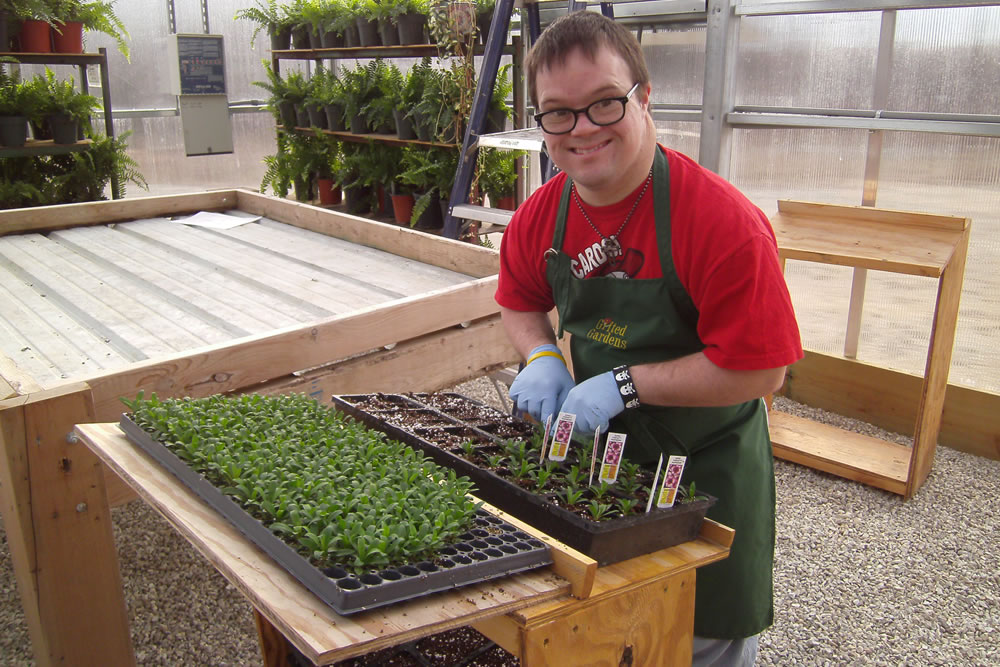 By providing fruitful employment for people with disabilities, Lake Area Industries (LAI) established Gifted Gardens, a program in Camdenton, Missouri where members grow bedding plants and flowers for sale to the community. It all began as a seedling of an idea, but with the help of people like noted horticulturist Bill Regen and by purchasing a Solar Light greenhouse from Agra Tech, Inc., one of the world's premier commercial greenhouse manufacturing companies, Gifted Gardens has blossomed into a beautiful workshop program that benefits employees and customers alike.
Known as Agra Tech's "Dry House" due to its built-in condensate removal system, the Solar Light model was the ideal solution for LAI. It's a logical choice, because the Solar Light is well-known for performing at a high-level with crops that have critically sensitive environmental requirements for mass production. The Solar Light made by this commercial greenhouse manufacturer is designed for all seasons and available with multi-wall or corrugated polycarbonate coverings. LAI Executive Director Tiffany Riemann explained the genesis of Gifted Gardens, the program she conceptualized and oversees. "Some of our assembly and production work started diminishing and going overseas, so we began looking at other ways to create work for our 54 employees. Our management team began searching for new business opportunities that would accomplish our mission and at the same time add new revenues to the workshop. The normal tasks in the past have always been like packaging, woodworking and pallet manufacturing. After visiting a successful greenhouse operation in Columbia, Missouri, we decided it was a business model that could work for us. Then we started searching for a commercial greenhouse manufacturer to work with."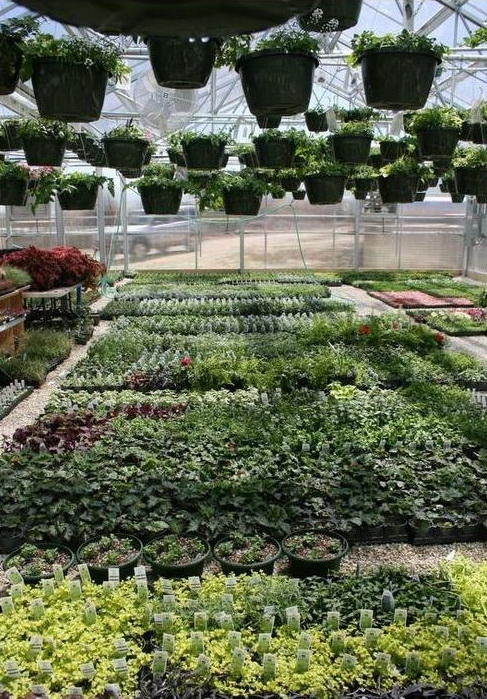 So, in June of 2010, the visionaries at LAI wrote a business plan in which the concept behind Gifted Gardens began to take root, Riemann said. "We brought well-known Horticulturist Bill Regen into the program as a consultant to help us and teach us about how to run the greenhouse and pick the right things to grow. We purchased the Solar Light commercial greenhouse from Agra Tech, Inc. shortly thereafter and Gifted Gardens opened in January, 2011, so that we could start planting in February."
LAI is one of 92 sheltered workshops in Missouri and has been in existence since 1983. Gifted Gardens is the organization's newest and most popular program, Riemann explained. "We're proud to sell what we grow to people and businesses in our community, both wholesale and retail. Our employees are very excited to work in the greenhouse and look forward to helping customers in the retail area. The overall goal of Gifted Gardens is to offer new job experiences and challenges, so that some of our employees can attain skills they can use every day and hopefully can lead to future job opportunities."
Job duties at Gifted Gardens include sowing seeds, filling pots with dirt, daily watering and feeding, carrying products to customers' cars and restocking shelves in the retail area. LAI's employees still perform some of the functions they've done for decades, by providing mailing services, assembly, collating, bagging and various packaging options and assembly, but now growing plants and flowers is a major role for many of its employees. In addition to growing its customary items, Gifted Gardens produces fat, juicy tomatoes in their Solar Light commercial greenhouse every year, for sale to the local school district.
Agra Tech, Inc. has been highly helpful and proactive in assisting them in every aspect of commercial greenhouse assembly, maintenance and operation, Riemann said. "James Roberts at Agra Tech is our 'anytime guy', because he's there to help us when we need him. We call him directly and the customer service is great. He's made it an easy process, because he's easy to work with and he is an expert about greenhouses, so we're definitely in excellent hands."
After less than a year in operation, Gifted Gardens is catching momentum and playing an integral part in the community, Riemann said. "It's been a wonderful accomplishment to grow things and our employees now fight with each other to work in the greenhouse. By establishing this program, we've received a ton of press and it's led to other opportunities for LAI. Our customer base is growing all the time, so we're very hopeful for the future of Gifted Gardens."