If you've ever purchased any organic rice or rice products at your local grocery store, there's a very good chance that they were grown at Lundberg Family Farms in Richvale, CA. Today, Lundberg Family Farms is the United States' leading producer of organic rice and rice products as third and fourth generation Lundberg family members are still carrying on the family heritage by using eco-positive farming methods to produce nutritious and healthy rice products while improving and protecting the environment for more generations to come. "Leave the land better than you found it," Albert Lundberg told his sons, something they still believe and practice to this day at Lundberg Family Farms.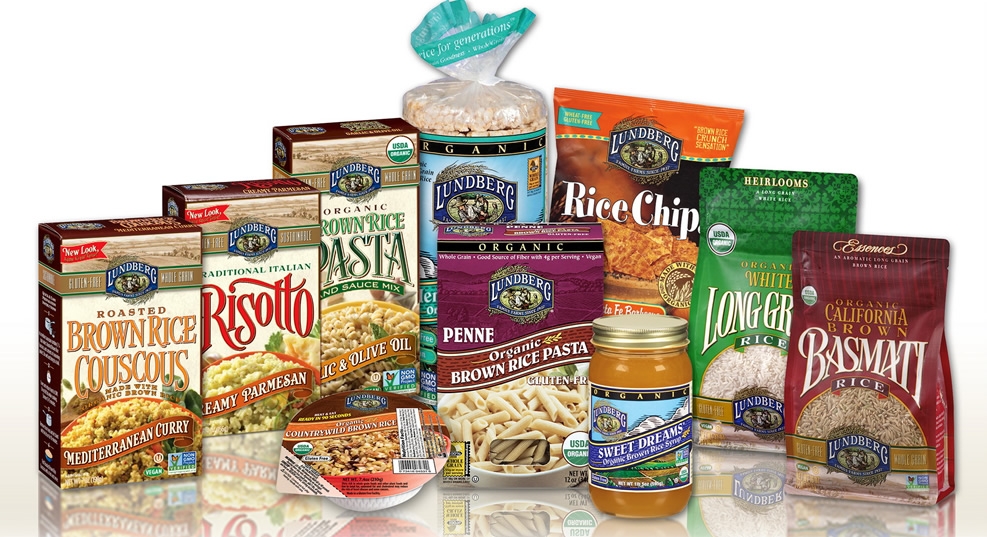 Eighty years ago, Albert and Frances Lundberg left their home in Nebraska to start a rice farm in Northern California's fertile Sacramento Valley with their four sons. In the 1960's, Eldon, Wendell, Harlan and Homer Lundberg saw the need to sell their products directly to the public, since it was being grown so differently from conventional rice. This gave consumers a choice in the rice they purchased and began the Lundberg Family Farms brand which now includes over 200 value-added products utilizing 17 different types of specialty rice, quinoa, beans and other whole grains.
Vice-President of Administration Jessica Lundberg first heard about Agra Tech back in 2013, when Lundberg Family Farms started thinking about replacing their greenhouses that had been serving them for many years. "We have a research nursery where we focus on our seed production, doing variety improvement and a wide range of organic material testing," she said. "We were doing this work in two older greenhouses and started talking about replacing them, because the complexity of the work we were doing was increasing. We needed to upgrade, so we started looking around at the different types of greenhouses out there at places like UC Davis and Chico State University. In addition, we talked to other greenhouse growers, including the people at the California Cooperative Rice Research Foundation (aka The Rice Experiment Station), which is right up the road from us in Biggs, CA. They had just completed a greenhouse, so we visited them to take a look and we were pretty impressed by it. The Foundation introduced us to Jim Bergantz at Agra Tech."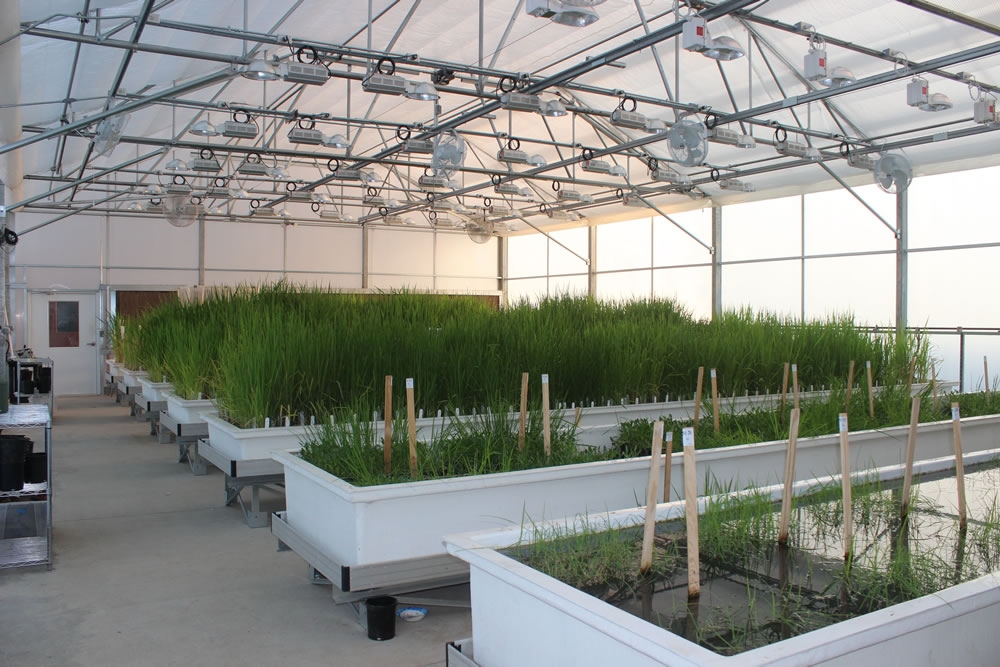 After the initial introductions, the process of planning and laying out the greenhouse was the next step. "We had a list of needs and wants and Jim at Agra Tech got us a bid, so that we could get an idea of pricing," Lundberg said. "Then, we put it into our business plan and it took about a full year until we were ready to take down the old greenhouses and apply for permits. We wanted something that was unconventional and Jim Bergantz's advice was instrumental in making it happen for us."
By using his extensive knowledge and experience in the commercial greenhouse industry, Jim Bergantz was able to help Lundberg Family Farms in several areas that saved them time and capital. "We were able to re-purpose a lot of our lighting, because it was only a year old".
"Since we are growing predominantly rice in the greenhouse, we had to figure out the bench layout to hold fiberglass tanks of water; the lighting requirements; the type of screen material we needed for insect exclusion; the heating and cooling operations in the greenhouse and how we could create a dual purpose "wet room" from the space of the cooling pad room so that we could use it to do pre-planting preparations to soak our experimental and headrow seed lines in water," Lundberg explained.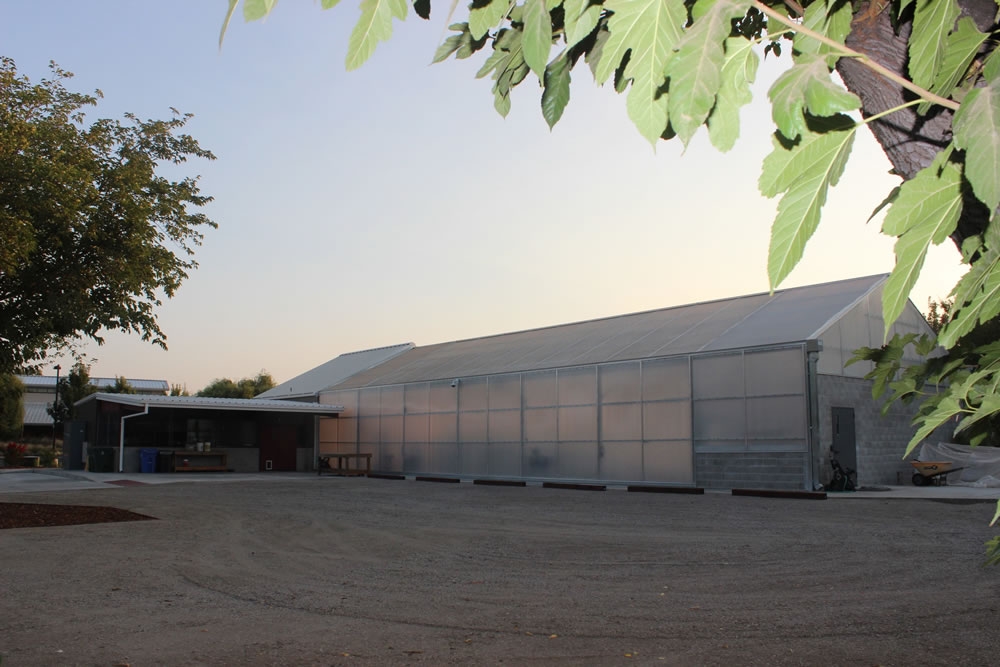 The actual construction for the Agra Tech 36' x 96' x 12' Solar Light greenhouse was completed in May of 2016, which means that the farm has been using the greenhouse for more than a year now with great results, according to Manager of Engineering and Continuous Improvement Bradley Thomson, who played a pivotal role in the design and implementation of the greenhouse project at Lundberg Family Farms.
"The team at Agra Tech met the challenge and did a great job from start to finish," Thomson said. "The completed house system is state of the art with fully integrated & automated controls for all operational aspects; fan speeds, lighting, cooling system, shade curtains and includes a PC based program interface that provides for monitoring system performance and set up. When small build issues arose, as they will, the Agra team stepped up and responded quickly to resolve the challenge. The new greenhouse represents a significant jump forward for Lundberg Family Farms not only in the overall system but also in the Head House space that was custom created for our own team. Agra Tech and Ag-Con worked in conjunction with our General Contractor to tie in a custom head house built by our general with a state of the art Green House, they did an excellent job.
View of the beautiful facility area from the front.
Update Dec 2019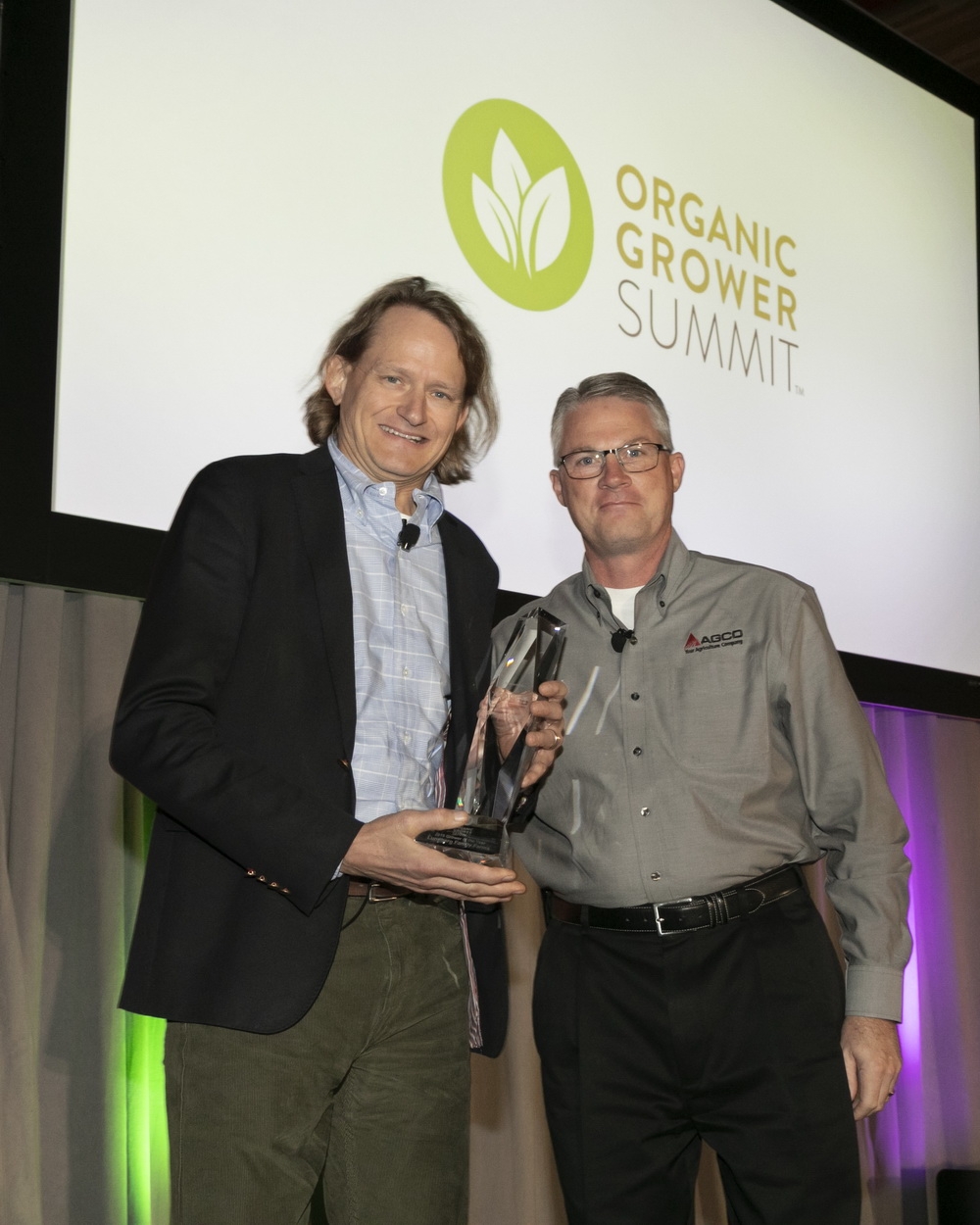 Grant Lundberg Receiving the award.
Lundberg Family Farms is honored to have been named Grower of the Year by AGCO and CCOF at this year's Organic Grower Summit!
Grant Lundberg, CEO, was honored to accept the award on behalf of Lundberg Family Farms and the Lundberg family. "Our grandparents and parents instilled in us a deep respect for the land and environment. This led to family farming traditions in straw management, water and wildlife conservation and use of cover crops. It has also built environmental practices in our manufacturing operations with the use of solar power, chemical free pest management and the attainment of US Zero Waste Council certification."
Very big thank you to AGCO, California Certified Organic Farmers (CCOF) and the Organic Product Network (OPN) for this recognition!
Read Press Release: Lundberg Family Farms Named Organic Grower Summit's Grower of the Year (December 5, 2019)