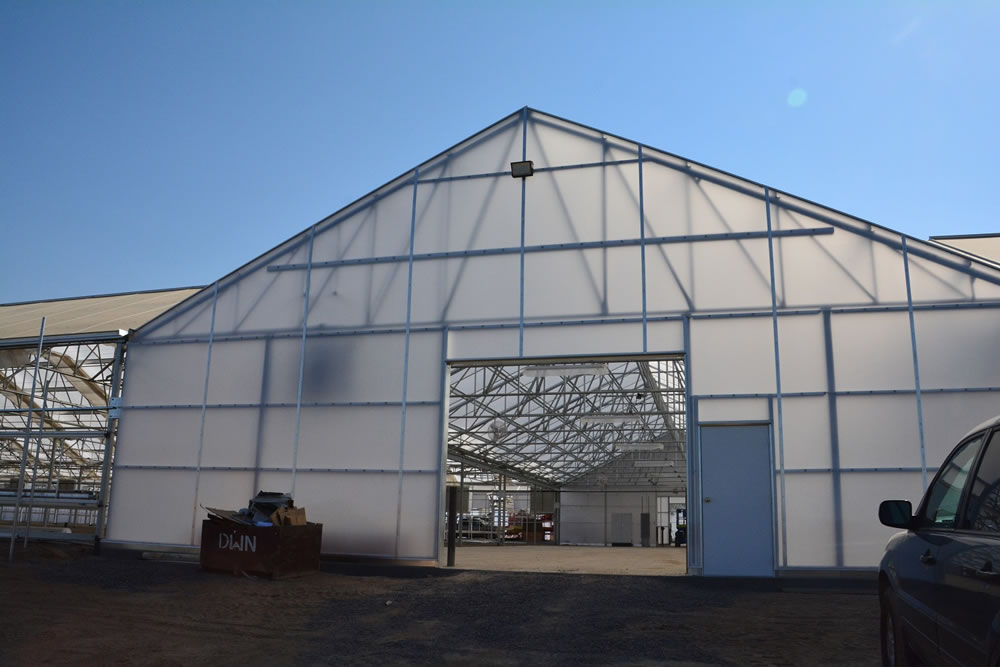 To increase its capacity for growing rootstock, as well as extend the growing season, Dave Wilson Nursery Inc. is working with Agra Tech, Inc. to design and build a standalone 150,000 sq. ft. greenhouse facility with a wide range of cutting-edge features throughout. For the commercial side of Dave Wilson Nursery, this addition is part of a two-stage expansion plan, with another 75,000-sq. ft. addition anticipated to take place sometime next year.
Mike Farris, Greenhouse Manager at Dave Wilson Nursery Inc., has overseen this construction project and is confident in its successful completion as well as its tremendous benefit to DWN's production process. The greenhouse expansion was designed and manufactured by Agra Tech, Inc. of Pittsburg, CA and assembled by Ag-Con Construction of San Jose, CA.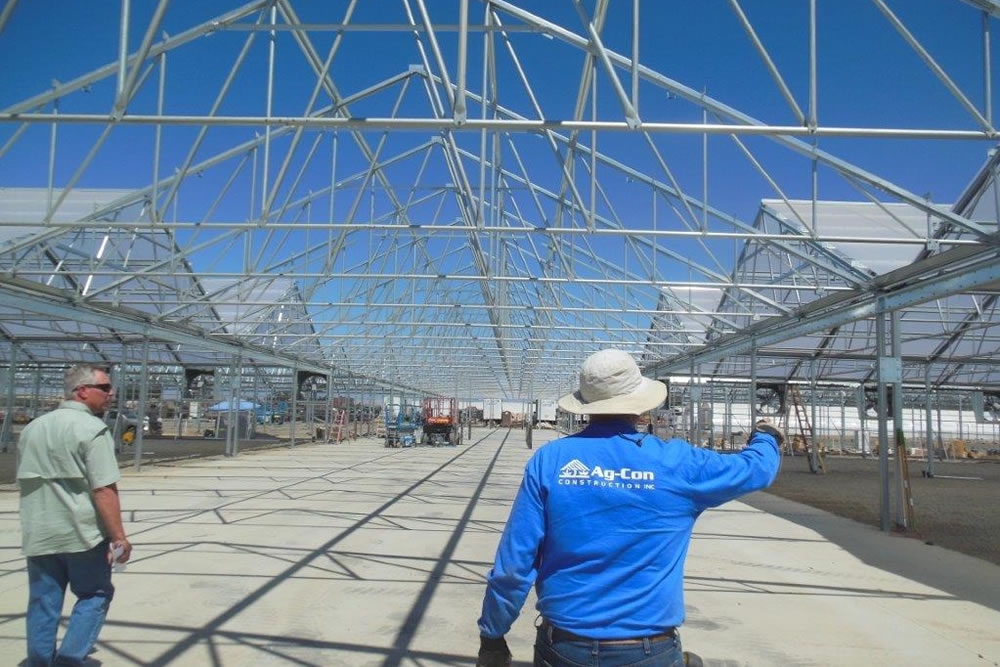 "This expansion will facilitate the increased production of almond trees on hybrid rootstock for our commercial market," Farris said, "which is the driving force behind this recent expansion."
The expansion not only provides for increased production but does so with great efficiency and labor saving," Farris said. Phase one's capacity is 2 million plant starts. Phase two equals that capacity or it will hold 257,000 finished stock in 100mm x 200mm Elle Pots ©."
Integrated into this greenhouse expansion are a wide range of additional features. According to Farris, these include Agra Tech's line of mobile trays, under-bench heating, Cherry Creek's traveling water booms and a secondary overhead heating system, all controlled with a Hortamax control system. The addition of insect screen will facilitate improved plant health and vigor.
Ray Pound is the owner of Ag-Con Construction, a company that has built literally hundreds of greenhouses over the years. Large greenhouse operations call upon Pound frequently to get their greenhouses built on deadline and without complications, because Ag-Con knows how to build even the most complex greenhouses.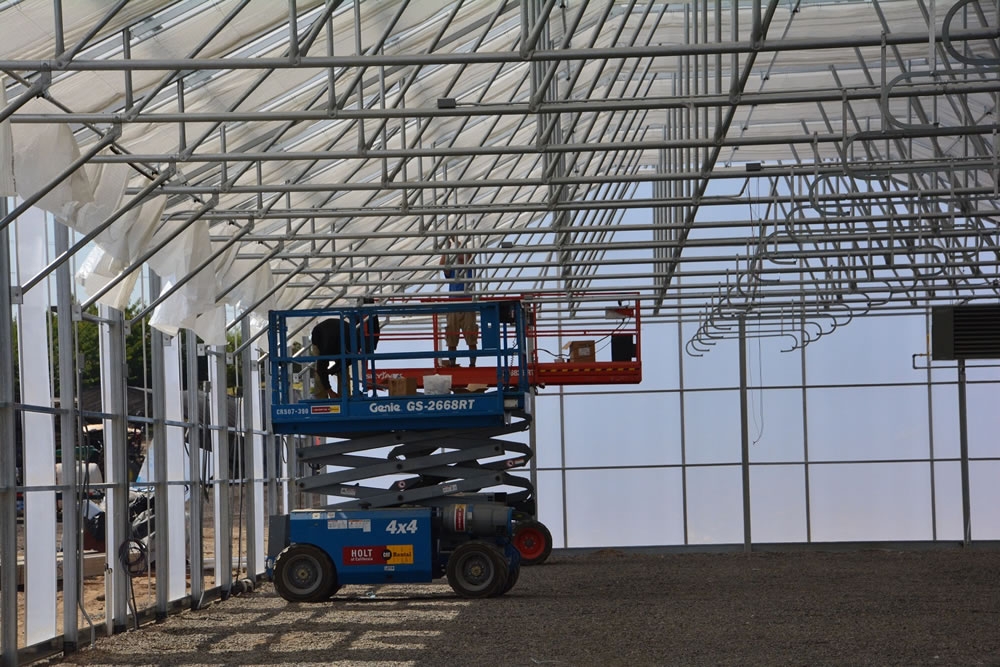 Pound has worked on a series of small projects with Dave Wilson Nursery in the past and that's why he is pleased to be involved in the company's big project. "The people at Dave Wilson Nursery are great to work with, so when I first found out about this project, we were really excited," Ray Pound said. "This greenhouse is state-of-the-art throughout and David Wilson Nursery is going to be doing some amazing things in this greenhouse with almond trees. It is going to play an important role within the company, so getting it up-and-running by December is huge."
With a crew of 11 working day and night to reach the greenhouse's deadline, Pound is fast tracking everything to make the December date. "I have an excellent crew and by working with Mike Farris, we are really stepping up on this job," Ray Pound said. "This is a dream project, because it is innovative in many ways and Mike Farris is great to work with. I was involved in several aspects of the greenhouse's design and offered advice during the planning stage. This is a step into the big-time with all of the companies that worked on this greenhouse, so we're anxious to be able to see it in action. The design stages on this project started in July of 2015 and on December 1st, we will be up-and-running with this greenhouse and all of its features."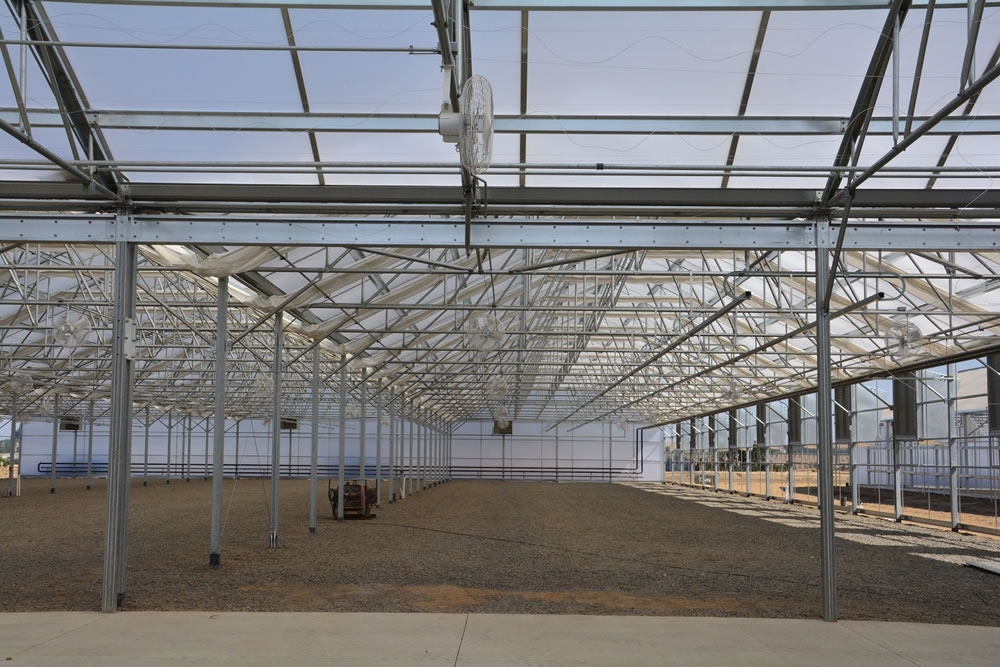 Dave Wilson Nursery grows trees for commercial orchards as well as for home garden centers nationwide, offering a complete line of deciduous fruit, nut and shade trees for the home garden trade. Established by Dave Wilson in 1938 on a tiny parcel of land that he rented near Modesto, California, Dave Wilson Nursery has established a great track record for being one of the largest growers of deciduous fruit, nut and shade trees in the entire country. By changing with the times and embracing the newest technology available, Dave Wilson Nursery has grown exponentially over the past 78 years. Tom Spellman, the company's southwestern U.S sales manager, has an office in Upland, CA.
With 11 years of experience managing greenhouses, Farris knows the ins and outs of designing and building growing structures of all types and that's why he is happy to be working with a company like Agra Tech. "We have worked with Agra Tech and Ag-Con previously, so we're very comfortable with both companies and know we'll be getting some of the best service available," Farris explained. "In fact, Agra Tech has built all of the greenhouses we have here currently, except for the original one that was built back in the 1940s. Working with the Pound family and Jim Bergantz our ATI rep, not to mention all of the amazing folks in their office–it is great to be working with some of the finest and smartest people in the industry today."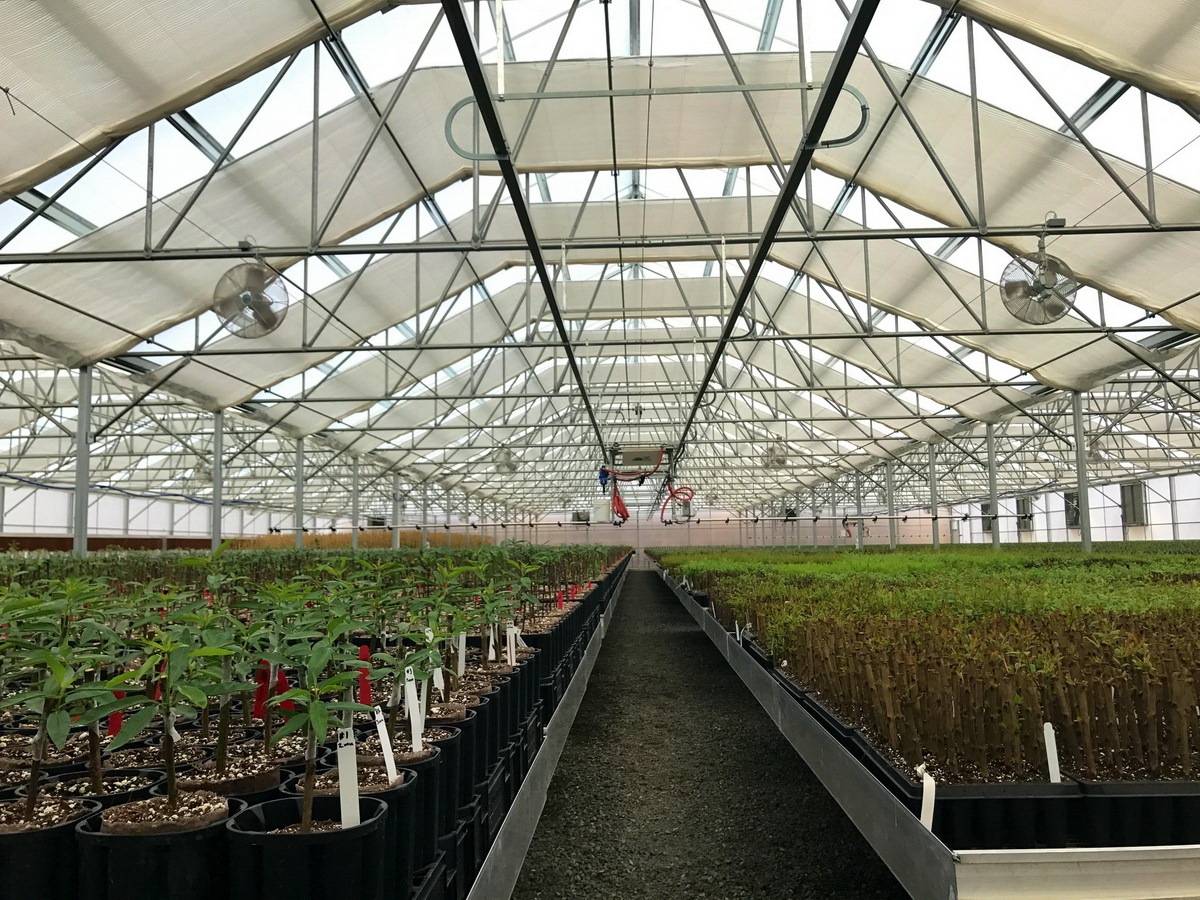 Solar Light greenhouse in production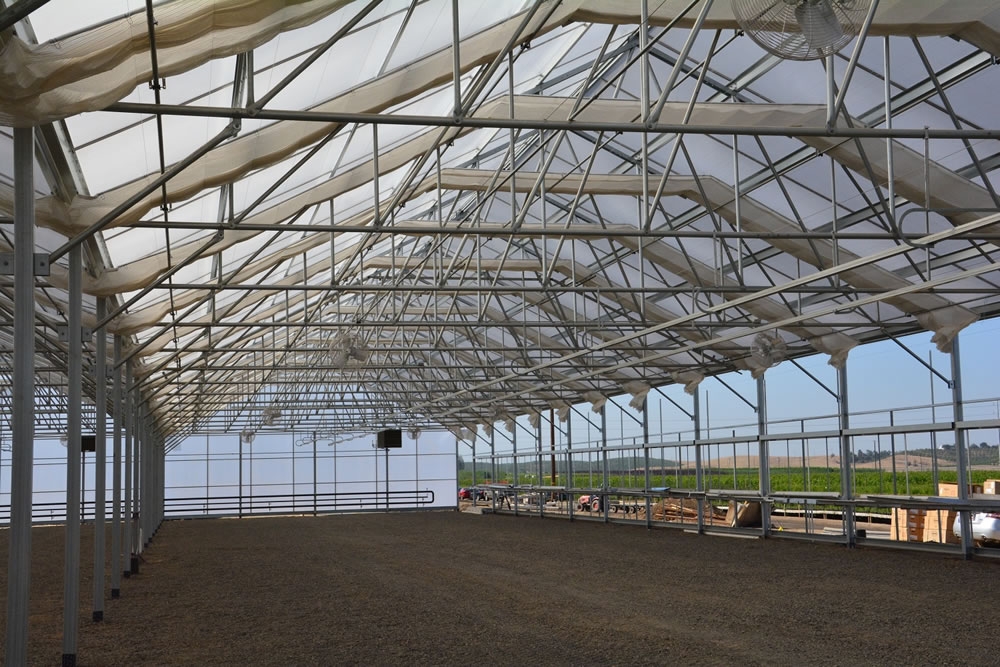 Solar Light 42 nearly completed
The Result: The above greenhouse expansion reduced crop cycle from 9 weeks to 7 weeks. Read more