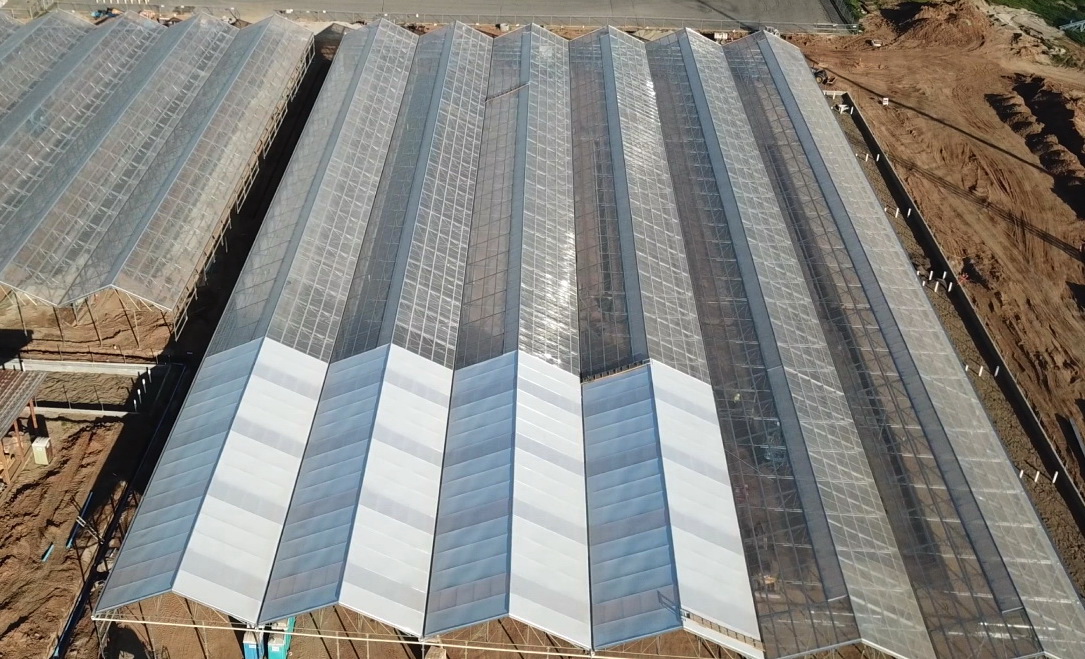 Agra Tech is proud to announce that construction is underway and on schedule on what will become the standard for Cannabis greenhouse production at scale.
The nearly 200,000 ft² facility will boast a labor force of less than 10 and an impressive 90% floor to canopy utilization. All materials were delivered by Agra Tech ahead of the tight shipping schedule.
The installation will soon be the largest vertically integrated cannabis campus in California. The facility will encompass 265,000 square feet with 180,000 square feet of greenhouses that when fully operational, will provide a full-service offering through its own in-house capabilities including cultivation, manufacturing and extraction, wholesale packaging and distribution, a delivery-only dispensary and branding and marketing services. The company is scheduled to begin cultivation, manufacturing and distribution in early 2020.
Agra Tech's Director of Sales Adam Pound is proud to announce that the construction is underway and on schedule on what will become the standard for cannabis greenhouse production at scale. "The 180,000 square foot greenhouse facility will boast a labor force of less than 10 and an unprecedented 90% floor to canopy utilization," Pound said. "All materials were delivered by Agra Tech ahead of the tight shipping schedule and the progress has been impressive."
The facility will be capable of producing upwards of 80,000 pounds of premium dried flower and processing of 750,000 pounds of dry material annually. Sustainability is an integrated part of all operations, including a cultivation process designed to reduce greenhouse gas emissions, water-efficient irrigation, and the cooling, collection, treatment, and re-use of all run-off water.
According to the customer "In 2018, we took a deep dive into our greenhouse design looking at the major suppliers and manufacturers. I spent a week in Israel looking at other companies' greenhouse designs and talked to a few here in the United States when a consultant we respect suggested that we take a close look at Agra Tech."
Once they saw the facts as presented by Agra Tech, it was go-time. "The automation piece really allowed us to look at the facility in a different way. This enables us to dramatically increase the overall efficiency and our throughput. Agra Tech's plan made an incredible amount of sense to us. We know that by using this system, we will increase our net utilization 15% to 20%."
In addition, there are some significant labor efficiencies and advantages associated with the automated system. The labor benefits are extraordinary! They are going to be able to cut back on labor by orders of magnitude. Unemployment is way down, so finding good people can be problematic.
It's a much more ergonomically efficient and effective method of moving plants within the greenhouses. Some labor-intensive tasks that are not necessarily ergonomically friendly can be done by the machines. It is estimated that the same job in the same space that normally required up to 60 can be done with as few as 8-10 people using this system.
When human beings touch plants, it often leads to issues down the road, so relying on robotics can strip out much of the human factor. Eliminating contact is better from the perspective of the plant's health. Put the plants in an ideal environment, and let them do what they're designed to do. People can be disease vectors.
Agra Tech Sales Engineer Jim Bergantz was honored to play an integral role in this project. "It has been and continues to be extremely exciting to work with this customer, Agra Tech's knowledgeable vendors and the brilliantly talented people of Agra Tech's technical support department on this project. The seamless collaboration we share has fostered timely construction progress. We look forward to more innovative projects going forward."
Pound is happy to be part of this revolutionary project. "This is a project we are very proud to release to the world," he exclaimed. "Tightly controlled environments are needed for such a highly regulated, tested, and consumer scrutinized crop.
Agra Tech provides state of the art growing environments to help the plant perform the best it possibly can. For over 45 years Agra Tech has specialized in manufacturing high performance commercial scale greenhouses while outfitting them with the best available equipment on the market. Agra Tech believes in earning trust by listening to their clients, delivering on time and on budget while by being reliable over time.
Interested in hearing more?
Agra Tech, Inc.Greenhouse Manufactureres
Toll Free:(877) 432-3336
P:(925) 432-3399
E: Agratech@agratech.com
W: Agratech.com