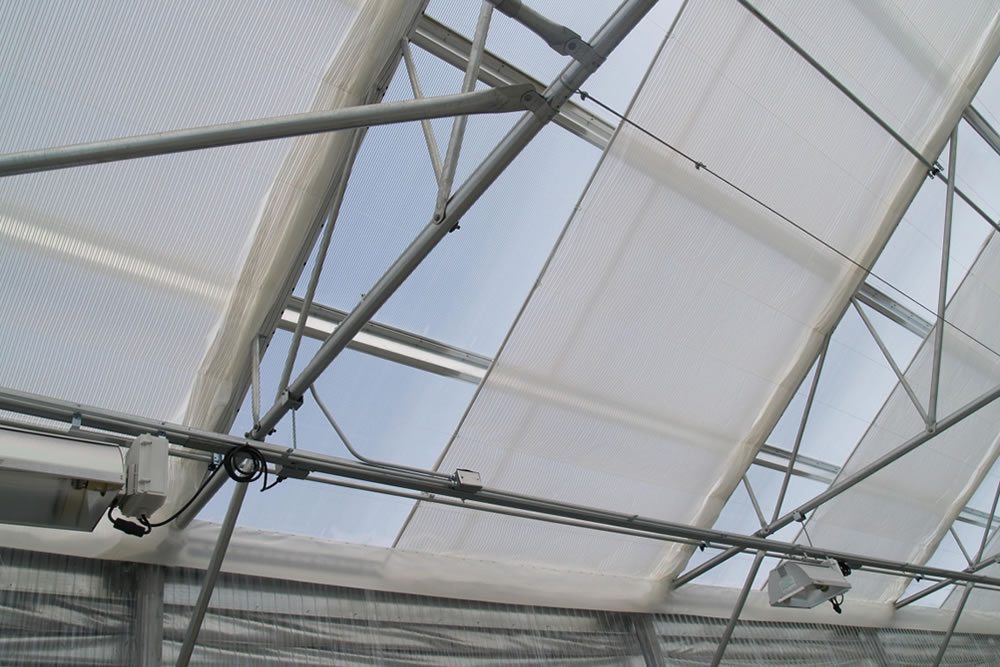 By controlling the growing environment in a commercial greenhouse and being able to manipulate the weather at any time, Energy Shield Curtain Systems manufactured by Agra Tech, one of the world's leading manufacturers of commercial greenhouses, are used by growers throughout the country for a plethora of different uses.
John Pound, owner of Agra Tech, Inc. has seen literally thousands of applications for his greenhouses in conjunction with his Energy Curtains, so he knows the best ways to use them and how to achieve optimum results in almost any greenhouse scenario, he said.
"It's all about control and saving energy in the process," Pound explained. "By using this product, you can produce better quality plants and that's what every grower is striving for. By incorporating the fabrics that suit them the best, growers can keep the heat in or get the cold out, depending on their plants, their geographical location and the time of the year."
In short, Agra Tech's Energy Curtains are retractable interior ceiling curtains system manufactured for use in Agra Tech greenhouses. All Agra Tech structures are factory punched to accept the Energy Shield, which allows growers to add them conveniently after they install their greenhouses and are up and running.
By choosing from a wide range of shade fabrics that have been designed to reflect excess sun back out the roof in greenhouses, Energy Curtains by Agra Tech, Inc. can provide a cooler climate in the greenhouse if desired. By using thermal curtain fabrics, growers can retain more heat in their greenhouse on cool days and overnight. Most fabrics on Agra Tech's energy curtains have both shade and thermal value, making them versatile and thereby easier to use.
The basic features built into Agra Tech's curtain systems improve growing environments while maximizing energy savings; enhancing space utilization, and assuring continued problem-free performance. They're available in Slope-Flat-Slope systems or can be used in a Flat system. All Agra Tech Energy Curtains can be either computer or manually controlled, powered by Agra Tech's certified motor/gearboxes and controllers. The Energy Shield Curtain System can also be retro-fitted into non-ATI greenhouses.
Agra Tech has designed all of its Energy Curtains for easy installation and drama-free maintenance, Pound explained. "All of our greenhouses are set up so that an Energy Curtain can be added at any point, because all off the frames already contain all of the necessary mounting holes, etc. Many customers will purchase a commercial greenhouse from us and then down the road they will opt to incorporate the Energy Curtain. It's like when people buy a house and then add a deck or a patio, for example. They're enhancing the greenhouse's performance and saving money almost immediately."
Once installed, Agra Tech's Energy Shield Curtain Systems work automatically and require little attention, according to Pound. "It's simple to set up the timing and once you've got it dialed in, you can forget about it and concentrate on more important things. In the end, the quality of the plants will improve and that's our #1 priority. And by consuming less energy these curtains are a smart investment, because they optimize the greenhouse's purpose and eventually pay for themselves several times over, in many instances."
Sunridge Nurseries in Bakersfield, California uses Agra Tech, Inc.'s Energy Curtains in all of its 28 ATI greenhouses, as they help the company to produce more than 6 million grape vines annually for wineries worldwide. Eloy Rodriguez oversees the growing of these vines and could not do his job as effectively without his Energy Curtains, he explained.
"Our season runs from December through June," Rodriguez said. "So, we have to keep the vines warm in the winter and cool them down as we enter summer. Agra Tech's Energy Curtains allow us to completely control and monitor our plants, so that we can produce the best quality season after season. Every morning, we determine how much light we want in the greenhouses, and the curtains make it so easy to achieve. 20 years ago, we had to get up on top of the greenhouses and lay netting along the roof. It was all manual and very time consuming. Now, it's just a matter of pushing a button."
Sunridge Nurseries has been slowly replacing its original Agra Tech Energy Curtains, which it began purchasing in 1984, Rodriguez said. "We started changing them for newer ones about six years ago. These curtains will last 10-12 years, so we've been retiring roughly eight each year. They're highly reliable, very easy to maintain and have performed extremely well since the first day we installed them."
Agra Tech's Slope-Flat-Slope design includes:
A dryer growing climate is maintained due to the air mass below the curtain that enables excellent air circulation.
Morning crop shock is minimized because there is less cold ceiling air above the curtain to drop on the crop when the curtain opens.
Better energy savings are achieved because of the small air space between the curtain and the glazing.
Space is better utilized because equipment can be hung below the curtain, leaving ample room above the curtain for ridge vents.
Agra Tech's Push-Pull design includes:
Push-pull describes the drive mechanics of the system. It is a high strength, low friction, rigid system requiring little maintenance.
The curtain is pushed and pulled to open and close.
Continuous 1 3/8″ pipes run from end to end of the greenhouse connecting the entire system together. They are driven by steel racks and pinions and supported within low friction roller guides.
All Agra Tech Energy Curtains include:
Galvanized steel racks and pinions for long life and low maintenance.
Spring steel fabric clips
Most support and restraint monofilament cables in industry
Full leading edge and gutter seals included