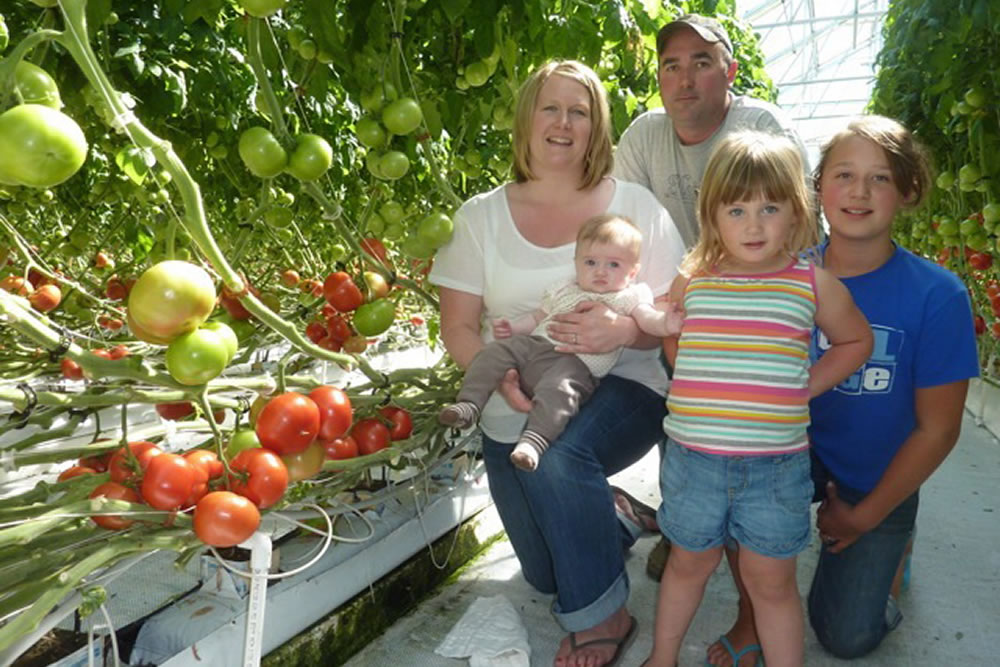 A third-generation family of farmers, McPhail Farms in Lyndon, Washington has been operating a U-Pick operation and farm stand growing and selling blueberries for many years. Seven years ago, the McPhail family began growing tomatoes in a greenhouse environment and today they produce 80,000 tomatoes annually. Selling them primarily at local grocery stores, McPhail Farms purchased two commercial greenhouses from Agra Tech, Inc., one of the world's leading manufacturers of greenhouses, and learned how to grow amazing tomatoes consistently from classes taught through the Controlled Environment Agriculture Center's (CEAC) annual Symposium.
By learning the ins and outs of greenhouse production, Todd McPhail has been able to watch his tomato business grow quickly, under the tutelage of the team at Agra Tech and a horticulturist professor at the University of Arizona, who introduced the idea of growing tomatoes in a greenhouse scenario.
"Dr. Merle Jensen dropped by our berry stand one day in 2004 and we started talking," McPhail explained. "He suggested that we start growing tomatoes in greenhouses, because we have the space (42 acres) and by adding another crop we could increase revenues." The random meeting led to bigger and better things and one of the first items on McPhail's to-do list was to attain some useful education on greenhouse growing and hydroponics, just to name a few.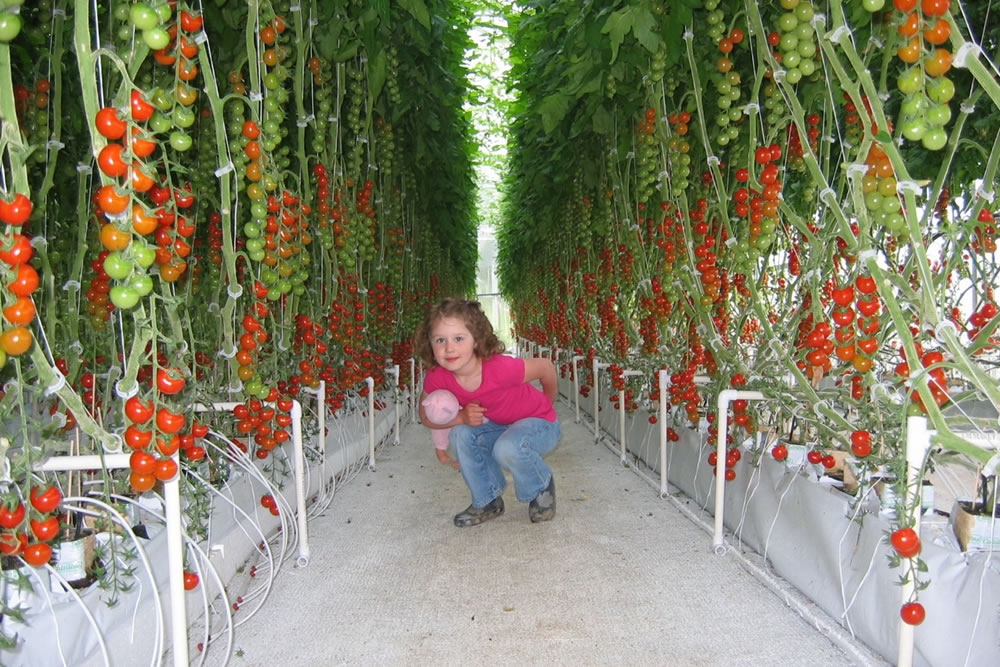 "We decided to go to a Controlled Environment Agriculture Center (CEAC) Symposium in 2004 to take one of their short courses on Greenhouse Crop Production," McPhail said. "We now attend it every year and last year we made a presentation about what we're doing with our greenhouse and the great results we've achieved. Dr. Jensen has been instrumental and our mentor on this project and by tapping into the knowledge provided by Agra Tech, through James Bergantz and James Roberts, we were setup for success right out of the gate."
If you're not familiar with the Controlled Environment Agriculture (CEA) department at the University of Arizona, it deals specifically with the production of plants inside structures such as greenhouses. By using CEA, framers can produce high value crops at maximum productivity in an efficient and environmentally friendly way. By supporting education, research and outreach as part of the Department of Agricultural & Biosystems Engineering and the School of Plant Sciences, the CEAC also offers an innovation platform for plant physiology, sensor technology and applied computer technology. The CEAC is well-known for its annual symposium, where top experts in controlled growing environments convene to share news, information and developing technologies impacting the industry. Agra Tech has played a major role at the symposium for many years and representatives from the company are on-hand to offer input and answer questions.
After going through the CEAC's short courses, the McPhail family felt they were confident and ready to embark on the journey of growing tomatoes in greenhouses provided by Agra Tech, Inc. "We agreed and made the call to Agra Tech," McPhail said. "We met with the Pound family and they made the process easy and seamless. Our Agra Tech greenhouses are A-Frame Solar Light houses with corrugated polycarbonate roofs with floors that are made up of compacted sand with white perforated material on them to reflect sunlight."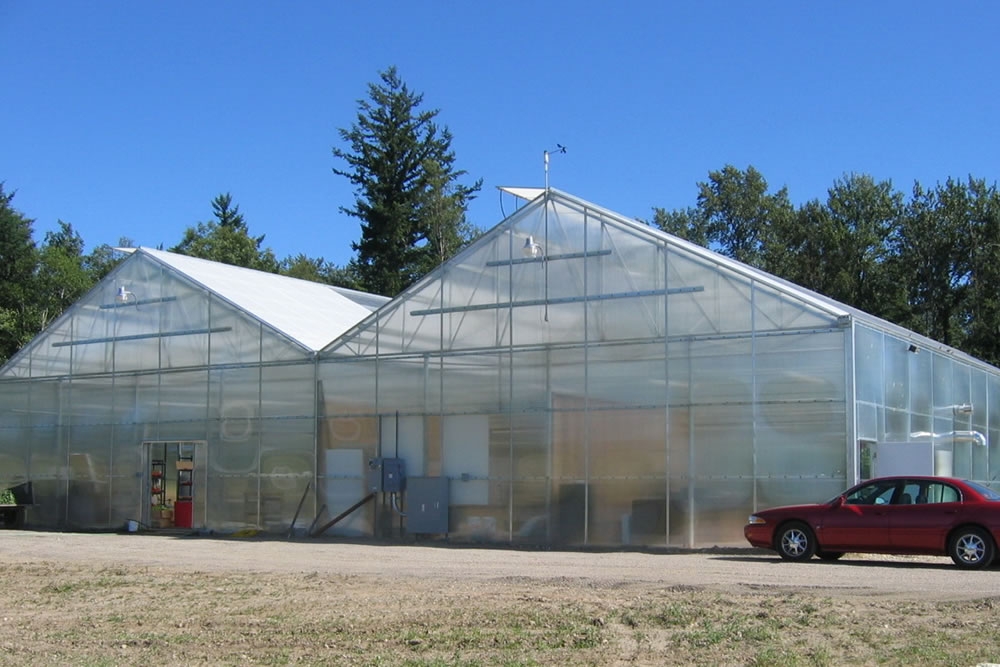 Once the decision to grow tomatoes indoors via hydroponics after decades of growing blueberries outside and in-ground, the McPhails moved quickly and definitively to get into the tomato-growing business. "We ordered the first Agra Tech greenhouse six months in advance and immediately started doing the prep work, including excavation, laying down natural gas and water lines, etc. The building began in September 2004 and within four months it was in operation. We initially installed a 10,000 square foot greenhouse, consisting of two growing bays (4,000 sq. ft. each). We did it that way for four years and then we added another 4,000 square foot bay in 2010, for a total of 12,000 square feet of growing space."
Owning and running a busy farm is a family affair. "My wife, daughters, mother-in-law and nieces are all stepping in and working the farm," McPhail said. "They pick, prune plants, sweep/mop floors and even do deliveries. And now we're growing cucumbers, which we added a few years ago. They're a little more labor-intensive and it seems like we're picking them all the time, but now we're growing about 2,000 lbs. of them every year and that number will soon be increasing when we buy our third greenhouse from Agra Tech."
That's right; The McPhails are purchasing another greenhouse from Agra Tech to increase their tomato production even more. "We just ordered it and it will be up-and-running before the end of the year," he said. "And since I know how to set it up now, I will be able to do most the work myself, with a little help from family along the way. The technical people at Agra Tech are amazing and we've become friends with them over the years. If I ever have a question, I can reach out to Tonya, our Agra Tech salesperson, and if she does not have the answers, she can find them rather quickly. Thanks Agra Tech!"