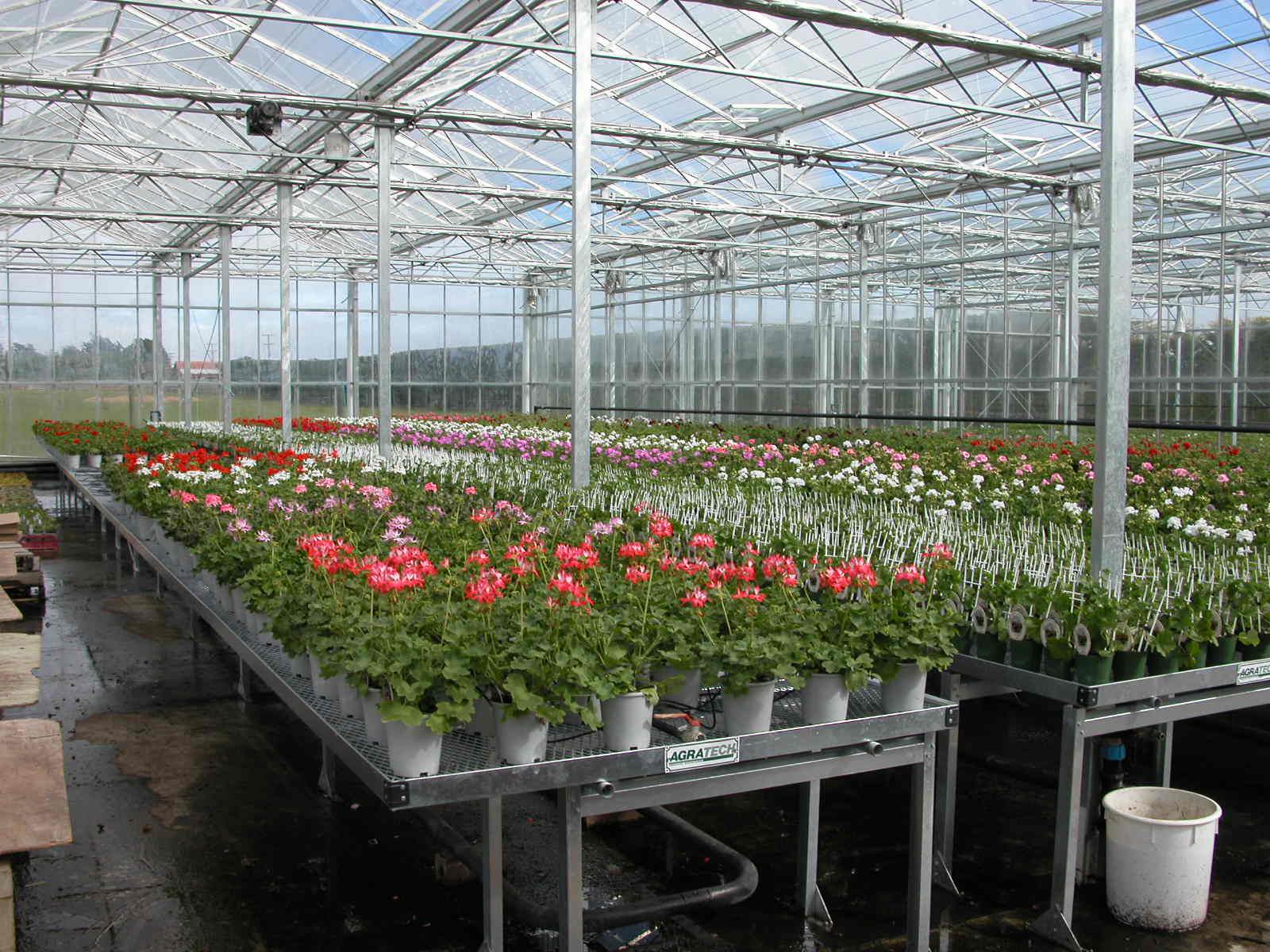 With customers worldwide, Agra Tech in Pittsburg, CA has greenhouses and ancillary products in countries all over the world and in this case, New Zealand is the setting for this story. Hayes Wholesale Nurseries is the New Zealand's largest wholesale growers and suppliers of Pac geraniums, fuchsias and Pac Pelargoniums and sells to local garden centers as well as national chains throughout the country.
Based in Makarewa, a small community north of Invercargill (the southernmost city in the South Island of New Zealand), Hayes Wholesale Nurseries is owned and operated by Barry Hayes. He has the industry in his blood, because he learned how to be a nurseryman first hand in his parents' garden center starting as a teenager back in the 1980s. He is now a veteran of the greenhouse growing industry with 30 years under his belt, and he wouldn't change the life for anything else, he explained.
"Helping things to grow and creating a quality product is satisfying," Hayes said. "We are specialist producers and the biggest growers of geraniums and fuchsias in New Zealand. All of the flowers we produce here are the best in New Zealand and people know that, so they look for our products in their garden centers and retail locations."
Growing 300,000 flowers annually is a huge operation and that's why Hayes needs three 1,000 square meter greenhouses (although they do call them "glasshouses" in New Zealand) and three separate propagating houses. The nursery grows flowers year round, but 80% of them are sold during their peak season, which runs from August through January, Hayes explained, with the busiest months being August and September.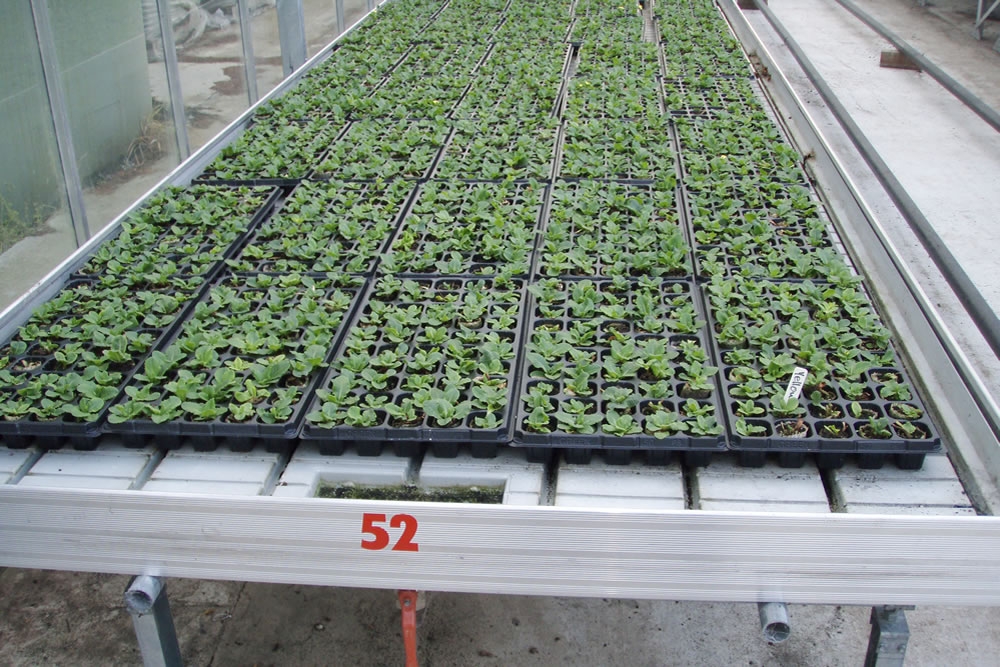 Agra Tech Ebb and FLow Bench
The nursery employs five full-time people and comes with a complete menagerie of animals as well. "We have two exotic cats here, my Bichon-Maltese-cross dog, Poodles, and right now I am also taking care of a friend's English bulldog. They're our very own visitor welcoming committee."
All of the plants grown at Hayes Wholesale Nursery are produced from cuttings. To meet the demand, they import cuttings from Germany every year. Once they arrive, the imported cuttings are kept in the nursery's quarantine facility for three to four months until Ministry of Primary Industries' inspectors give them the thumbs up. At that point, the cuttings are re-potted until they become well-established and then they're shipped out to customers.
Back in 2007, Hayes started purchasing rolling benches from Agra Tech, as part of their Agra Bench line of Mobil Trays, Rolling Benches, Stationary Benches, Ebb & Flow Benches, Caster Benches and T-Rail Benches. The nursery was interested in Agra Tech's benches for their convenience and saw instantly that they could help their production.
"We use their Rolling Benches, because they make our lives here so much easier," Hayes said. "By using these benches, we can grow more plants per square meter. Also, these types of plants require ongoing maintenance, which means we need a way to easily access each plant on a regular basis. The Rolling Benches enable our workers to do their jobs without spending a lot of time moving plants around."
Hayes also uses Agra Tech's Ebb & Flow Benches for several reasons. "We flood the trays with water and fertilizer and that way we're able to reclaim all of it," he said. "It cuts down on the cost of water and fertilizer, because the excess drains off and we re-use them. So, by using these benches, we're able to be a greener operation while saving a substantial amount of time, water and money."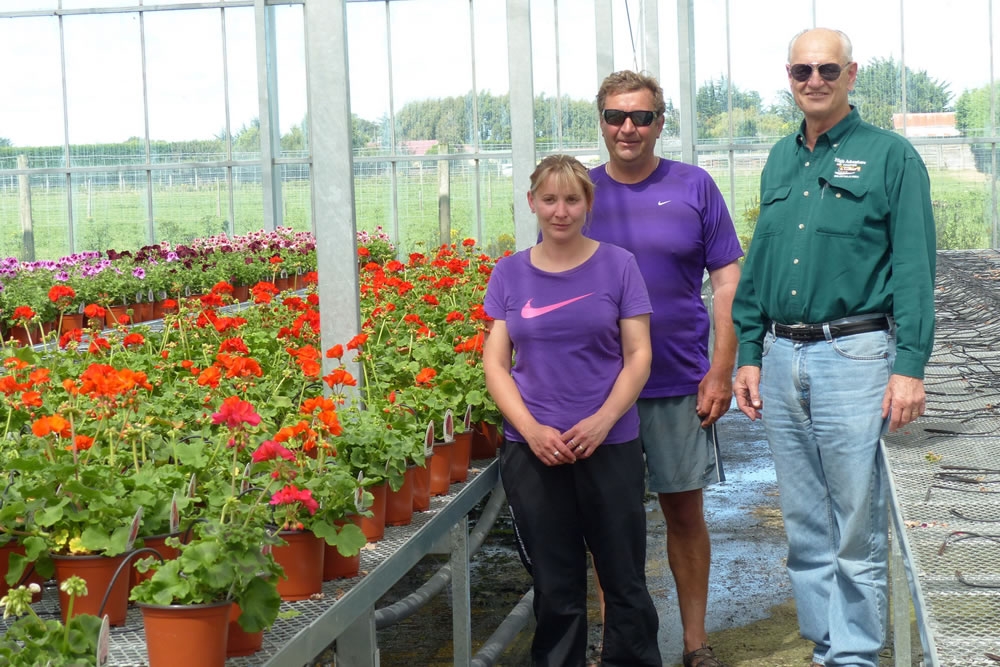 John Pound Visits Hayes Wholesale Nursery in New Zealand
Over the years of working with Agra Tech, Hayes has developed a solid relationship with the company. "Eloise and John Pound, the owners of Agra Tech have been here at least two times, looking at our operation and helping us to find good solutions. The Pound family has a ton of experience in this industry and their knowledge is invaluable to anyone growing crops in a glasshouse. We've received three large shipments of Agra Tech's Benches and as we continue to grow, I am sure we will likely need more."