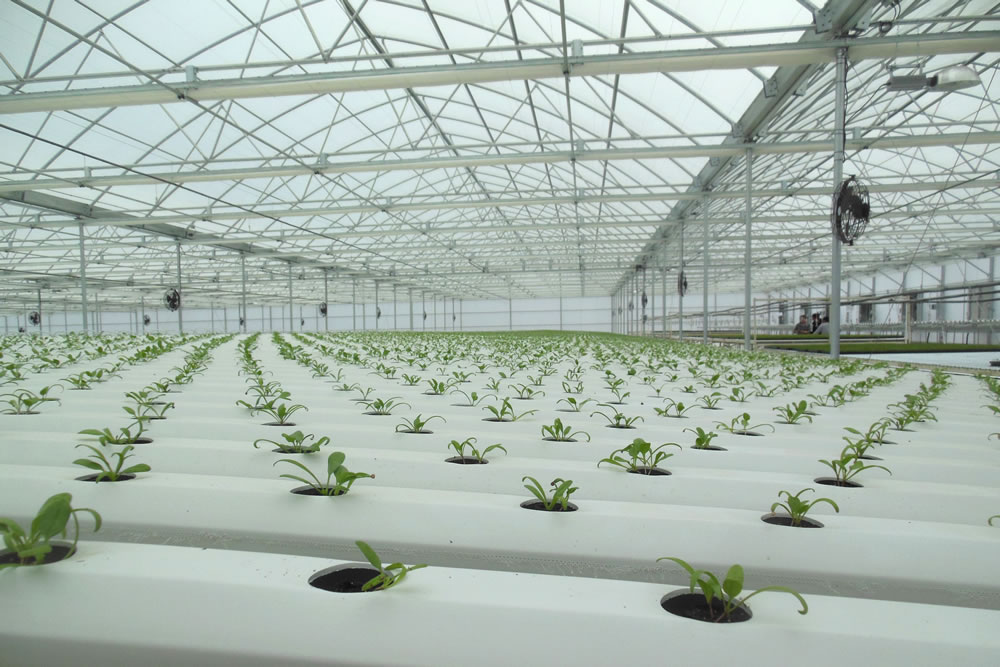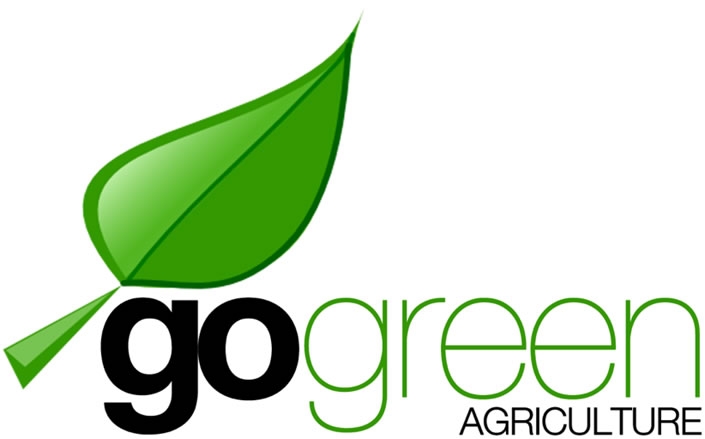 Go Green Agriculture is a family-owned farm in Encinitas, CA that grows leafy greens without soil in climate-controlled greenhouses made by Agra Tech, Inc. in Pittsburg, CA,commercial greenhouse manufacturer. The company grows lettuce, kale, spinach and basil year-round by carefully manipulating the light, humidity, temperature and nutrients, among other things, to produce ½ million plants for sale every month, through a wide range of retailers, including Barons Market, Safeway and Whole Foods, to name a few.
Last year, Pierre Sleiman, Jr. was honored as a member of The Champions of Change, a program that was created by the Obama administration as an opportunity for the White House to feature individuals, businesses and organizations doing extraordinary things to empower and inspire members of their communities. Sleiman was honored for doing extraordinary things to assist the next generation of farmers and ranchers, according to the White House.
Sleiman is a member of the board of directors of the San Diego County Farm Bureau, has a bachelor's degree in computer science and business from UC Riverside and a master's degree in business from UC San Diego. His idyllic vision is to have regional greenhouse farms all over the country, and eventually, why not the world?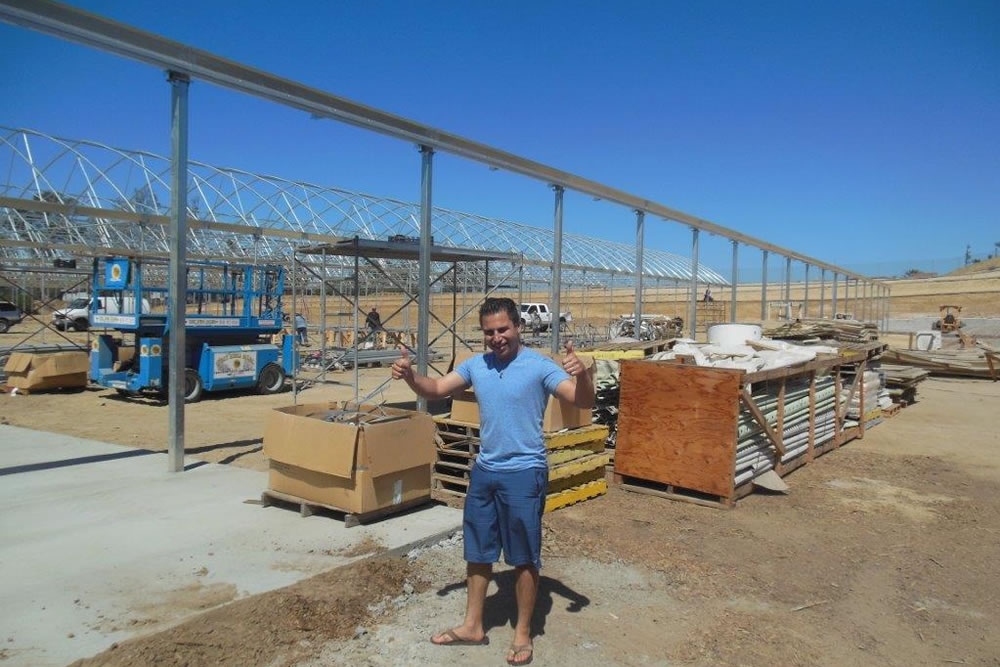 Pierre Sleiman excited about his new Agra Tech greenhouse
"I can see a time when small greenhouse farms all over the United States will be serving their local communities with fresh vegetables and fruit," Sleiman said. "We could vastly reduce the need of cross-country or international transportation that costs money, shelf life (time) and pollutes our earth with truck emissions. I'm not suggesting that all products can necessarily be grown locally and still be viable economically, but many crops surely can. With today's technology, it's possible… and we're doing it."
From the very beginning, Sleiman was entertaining big ideas while other kids were playing video games or hanging out at the mall. "I was that kid who keeps taking my parent's radio apart and trying to figure how it works," he explained. "I also had a dream about integrating technology with agriculture to find better and healthier ways to grow food. I believe that my role is to further integrate information systems technology with greenhouse automation and hydroponics to develop an effective system that will allow farming to be integrated into urban living and therefore create a more sustainable, local and safer food supply."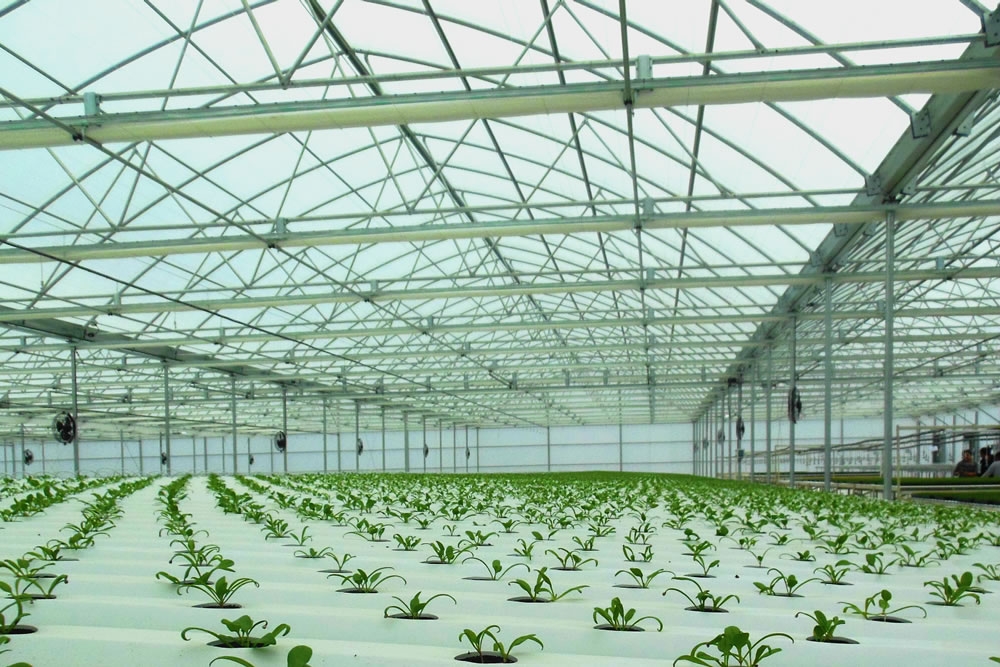 Until about a year ago, Go Green was leasing greenhouse space in existing structures, until they decided to purchase a brand-new greenhouse from Agra Tech, Inc. "We searched for greenhouse companies and after talking to several of them, we went with Agra Tech," Sleiman said. "We like the fact that they are located here in California, for one. And we wanted to have a greenhouse that we could customize and pretty much start from scratch and that's what we got from Agra Tech."
Another factor that swayed the Sleimans in Agra Tech's direction was their customer service and specifically, their Agra Tech rep, Jim Bergantz. "The people at Agra Tech definitely made the difference and the customer service has been great since day one. Jim Bergantz will drive here to help us at the drop of a dime and it's at least a 10-hour drive. He was willing to sit down with us and find a solution that was ideal for what we were trying to do and today our greenhouse looks gorgeous and we couldn't be happier."