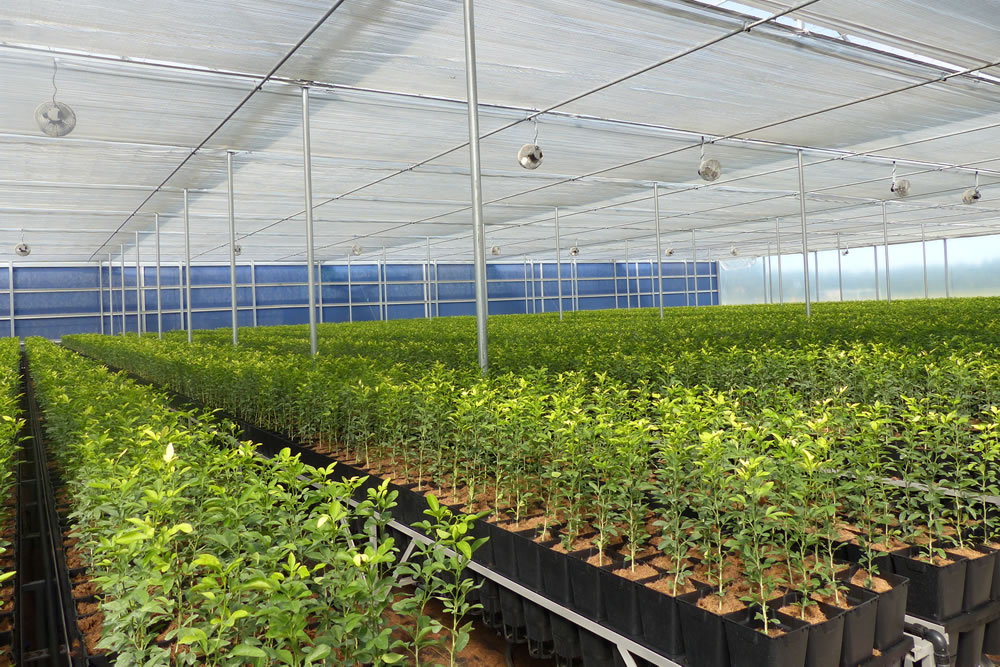 By working with one of the world's leading manufacturers of textile climate and environmental solutions, Agra Tech , Inc. of Pittsburg, CA is able to provide its clients with the ability to control their greenhouse growing applications, regardless of where they're located or what they're growing. A fourth generation family business run by siblings Anne and Anders Ludvigson, AB Ludvig Svennson (LS) provides a wide range of Climate Screens that are used to control the climates in greenhouses all over the world.
With headquarters in Kinna, Sweden and with daughter companies located in China, Holland, South Korea and the United States, LS makes energy fabrics that achieve the entire gamut of climate control, including reflecting the sun, blacking it out and diffusing its light evenly, just to name a few. By refining and further developing its Climate Screens over the years, LS has been able to provide more efficient shading properties, greater energy savings and thereby creating a more favorable growing climate for greenhouse growers.
Mauricio Manotas is the President of LS in the U.S. He has been spearheading his company's operations in North America since the company came to this country in 1996. Manotas has been able to see the Climate Screens industry change rapidly as the technology has progressed. "It's exciting to be working with some of the country's leading greenhouse growers at LS," Mantas said. "On the East Coast, there is more vegetable production and in the West, we're selling more Climate Screens to companies that are doing research and development and growing flowers, for example. Our products allow our customers to control every aspect of the climate in their greenhouse and that's why they can guarantee quality crops year round."
LS features five different Climate Screens. Each has its own distinct purpose, depending on what you're growing and where you're located. To suit different growing conditions, the company's Climate Screens come in more than 100 different variants. They are divided into five families according to their main features, which makes the selection process easier and more accurate.
The main five types of Climate Screens made by LS are:
Harmony: Scatters sunlight evenly
Luxous: Provides maximum daylight
Obscura: Total blackout
Solara: Highly reflective/open for ventilation
Tempa: Uses aluminum strips to maximize energy savings

Manotas has been working with Agra Tech, Inc. since day one and appreciates the relationship. "We've developed a great relationship with John and Eloise Pound at Agra Tech and I know they were working with LS long before I came onboard. We're a family business too, so ATI has a special place in our hearts. We've worked with them on a lot of projects over the years and we really respect their knowledge and experience. They're a valuable distributor of our products and we're proud to be working with them."
LS just doesn't sell its Climate Screens—they also bring a ton of their expertise to the table as well, according to Manota. LS and Manota are adept at working with greenhouse growers of all sizes—from 100-200 square feet all the way to enormous 40-acre greenhouses.
"Everything is custom made, so we work project-to-project. Each scenario is completely different, so you can't ever take a 'one size fits' all approach," he explained. "We analyze every scenario carefully and then we advise our customers about what they require. In many cases, the grower doesn't know what they need, so we weigh all of the factors—the geography, the kinds of crops to grow and the type of greenhouse they're using. We study their operation and look at it objectively. That way we come up with a blueprint in the form of a 6-7 page document that makes recommendations and offers them what we feel in an ideal solution. There is competition in this business, so we use our knowledge and experience to differentiate us from the rest. We want all of our 'climate partners' to maximize their yield and get the best crops they can, so that's what we do in each situation. By setting our customers up for success, we hope that they will work for us on an ongoing basis, as they grow and experience continuing success."